I'm only a month and a half late on this post! Keep positive, right? My wife and I kicked off the new year by waking up early and running in the "New Years Run for a Healthy World" in Palo Alto, California. It was a very small time race but surprisingly well put together. 220 people took part in the 10k race and I'm not sure how many were in the 5k run/walk. It was at the Baylands area in Palo Alto which I am very familiar with since I did a few runs in that area previously. The weather was pretty nasty earlier so the course was still quite a bit wet but I managed to avoid the huge puddles. Although I did see an adorable little girl skipping in the middle of the huge puddle, much to the dismay of her father.
My race time was not great, but that is expected. I've got a long way to go but the main thing is that I'm moving. I spent too many years lounging around playing video games and eating unhealthy, so making real life numbers go up instead of digital ones is a very welcome change. My time ended up being 1:00:09 (9:41/mile) — I should have picked up the pace to go under one hour! I was in 130th place out of 220 though.
I stole a terrible photo of me from the race photos site. I would have gladly paid $5 for a digital download to compensate the guys time and equipment but $25 for a .JPG is absurd.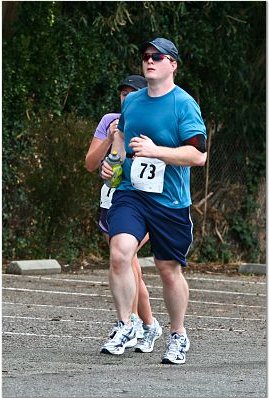 It was a great way to kick off 2010. A year or two ago if you told me I'd be waking up at 7am on New Years Day, missing part of the Penn State Bowl game and running in a 10k I would call you a whackjob… now I am the whackjob.
Next up — recap the Kaiser Permanente Half Marathon that happened the weekend before last!
And last, I applaud this guys choice of running wear! I wonder if it wicks sweat? 🙂