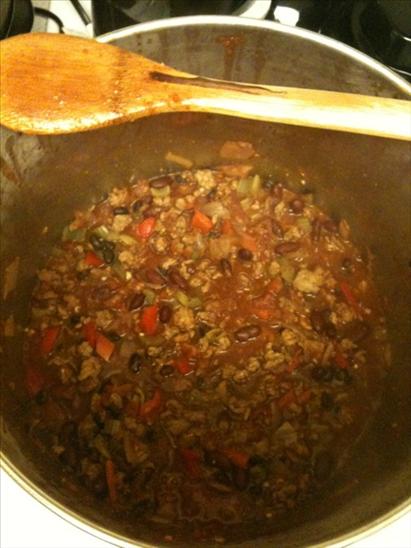 Someone asked about a Turkey Chili recipe and 140 characters on twitter aren't going to cut it. Here's just a quick run down:
I make it for lunch for Kelly and I on Sunday afternoon and it generally makes enough for both of us to eat for lunch for the entire week with a little leftover Halving everything will work too and it's chili so do what you like! It's pretty spicy, so change things around according to your taste. I buy most of the stuff from Trader Joe's but I'm sure the equivalent can be found around wherever.
Around 2.5lb of ground turkey
3 cans of no salt added diced tomatoes
3 white onions
celery stalk
5-6 cloves of garlic
2-3 red bell peppers
2 cans of black beans
1 can of kidney beans
3-4 jalapeños (I leave the seeds in!)
8-10 Serrano peppers (I leave them in here too!)
4 tablespoons of chili powder
1.5 tablespoon of cumin seeds ground up (or use 1tbsp cumin powder)
2 tablespoons of cayenne pepper
kosher salt + ground pepper
Big squirt of ketchup (I use TJ's in house ketchup since there is no HFCS in it)
Few (ok I do a lot) shakes of the chipotle Tabasco sauce
Brown the turkey and drain the fat and throw it in the pot. Then I do soften up the onions with garlic, and throw them in the pot. Toss everything else in the pot except for the beans and add probably about 3-5 cups of water. Let it simmer for a few hours and stir occasionally. When there's maybe like 30 minutes or so left throw in the cans of beans. (I usually do it earlier but I'm lazy.
Warning though that it's pretty spicy so maybe just use jalapeños and 1tbsp of cayenne pepper if you're a chicken.