Quite a few people have asked me what kind of training plan I follow so I figure I would throw together a short post describing my routine. I'm not competitive by any means and it's usually a battle for me to stay out of the last few spots in my age group. But hey, maybe some day soon that will change! It wasn't that long ago I would never have considered doing this stuff!
I try to incorporate swimming, cycling and running throughout the week along with two days of full body strength training. So essentially my template "base" schedule looks like this:
| | | | | | | |
| --- | --- | --- | --- | --- | --- | --- |
| Cycling (30-45min) | Run (short) | Cycling (30-45) | Run (short/speed|hills) | Rest | Long Run | Long bike ride |
| Weightlifting | Swim | Weightlifting | Swim | | | |
I definitely stress that this is just my template. I live in the San Francisco Bay area and am lucky enough to have a ton of events going on all year round. Because of that I end up dropping some things and/or moving them around a lot. For instance I dropped a couple of the cycling workouts when The Relay was getting closer. I also dropped a long run since the Echelon Gran Fondo Century is coming up. I have, however, been pretty strict about the swimming since that is my weakest of the three and I don't want to drown during the Vineman Ironman 70.3 coming up in July!
I try to follow the 10% rule during the runs only by adding a mile or two to the long runs on the weekend. For example, a couple weeks ago was a 10 mile run followed by an 11 mile run the following week. In swimming I've been trying to build up to the 86 laps to mimic the half Ironman I will be doing. I've been doing a lot of work on my stroke trying to make it much more efficient but I end up doing something like 200 yards, a bit of rest, repeat. As I get stronger I'm trying to make those intervals longer.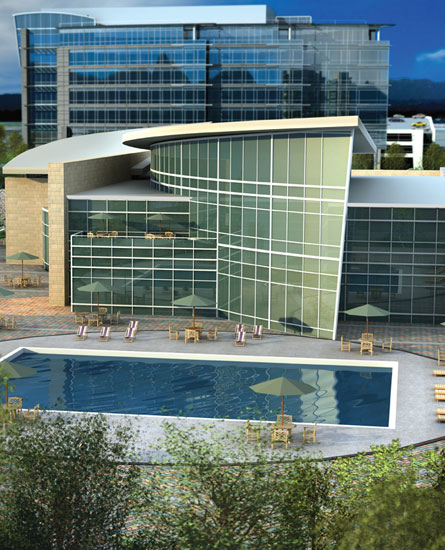 I can't find a good photo of the pool and I'm scared to bring my iPhone near the water but this is what it looks like, but imagine there being lanes! It has a saline system in place so no disgusting chlorine smell! (It's a digital concept photo but it does look as awesome in person!)
As far as my weight program goes, I follow a pretty simple program:
Monday:
Squat
Bench Press
Straight leg deadlift
Incline dumbell press
Lateral pulldowns
Chin ups + dips
Wednesday:
Incline bench press
Deadlifts
Seated military press
Leg curl
Leg extensions
Seated rows
Chin ups + dips
I try to add 1-3 exercises depending on how much time is available and how I'm feeling that day. The compound exercises (bench press, deadlift, squats, military press) are the most efficient and what I concentrate on the most in the gym. If I'm really short on time just getting in and doing those lifts are well worth it. I did quite a bit of weightlifting when I was younger and I feel it's one of the most beneficial things anyone can add to their training programs.
Any questions please post a comment! 🙂
Things I have coming up soon:
Echelon Gran Fondo Century (May 23rd)
Muddy Buddy (June 6th) !!!
Silicon Valley International Triathlon (June 13th)