I'm pretty bad at updating, 'eh? I did quite a few events since the last post! Let me recap some of it.
Kelly and I drove up to Napa for a little mini-vacation for the summer. It was for our 5th anniversary. I don't know where time goes but it certainly goes somewhere fast. It has been five years since we got married and drove across the United States in a Penske truck and stopped in Sunnyvale, California. That was fun but I don't think I ever want to drive 2,000 miles on I80 ever again! Sadly Napa is only an hour and a half away but it was my first time there besides running through it during The Relay the previous week.
We celebrated our anniversary in style… by riding in our first century, Echelon Gran Fondo. Or in normal terms, 100 miles on a bicycle. It was a beautiful ride with about 5500 feet of climbing around the Napa Valley. It started in downtown Napa and headed toward Lake Berryessa with a loop back to St. Helena before returning to Napa.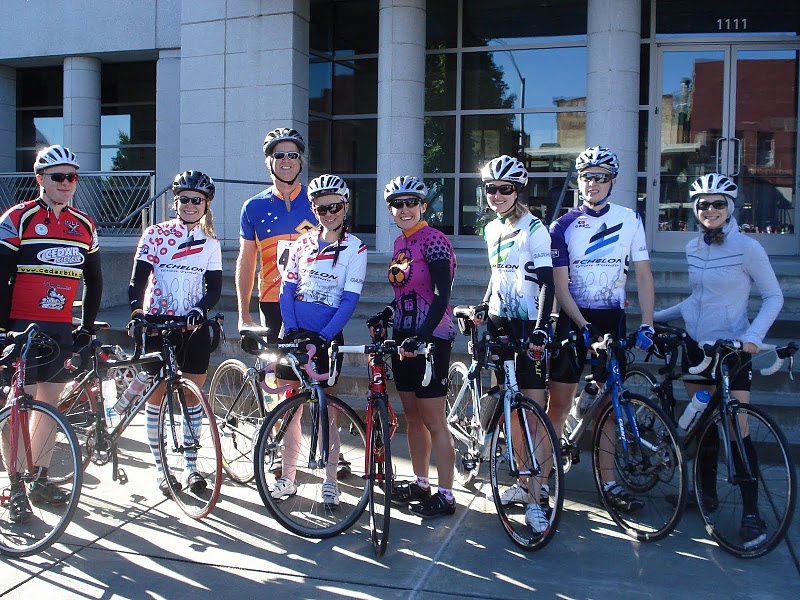 We met up with some great bloggers: CaitlinHTP, EatLiveRun, EatingRD, LiquidJill. (Linked to their recaps!) I stole photos from Jill's gallery … hope she doesn't mind – I'm terrible at taking pictures and she took some great ones!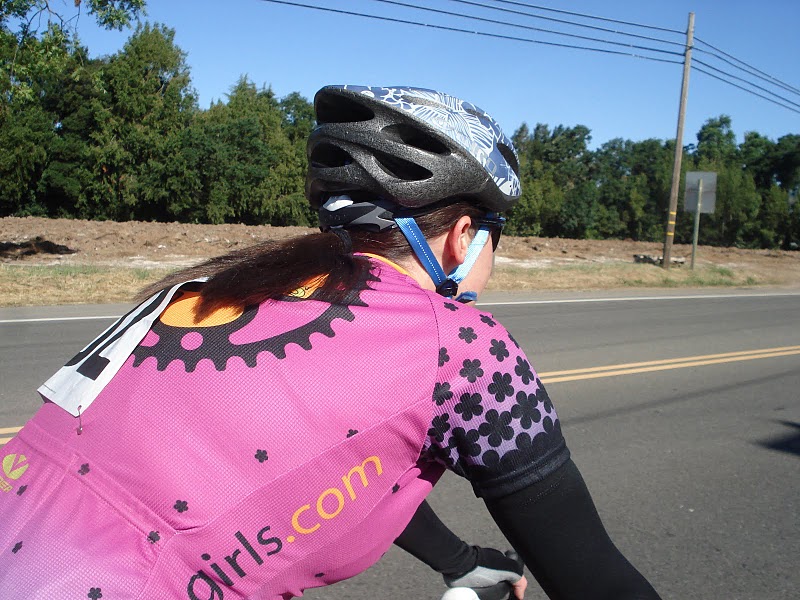 Kelly wearing her Velo Girls jersey in style!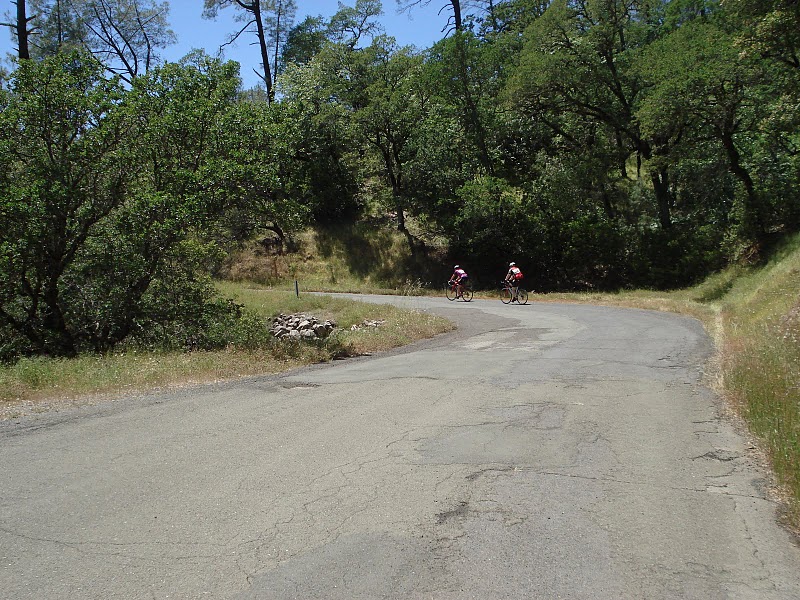 Cute pic of Kelly and I before I blew up on the climb!
I thought I had my nutrition worked out pretty well with some HEED in my bottle, clif bloks and some gels. I tried to eat some salty things at the two aid stations before the big climb. Unfortunately I didn't react well to all the sugary stuff and felt really nauseous in the middle of the climb. I had to stop for a few minutes because I thought I was going to hurl. After HTFUing up a bit I hopped back on and made it to the top. I never had tums before but they certainly work. I downed one of those along with a can of coke. (First time willingly taking in HFCS in a couple years!) I felt much better after that. So my nutrition needs some adjusting. The climb is almost a carbon copy of one of our local climbs that we train on, except that usually comes at mile 22 of the ride … this hill came above mile 60 somewhere! Doh.
Overall it was a great experience. I had some gripes with the organization but they vowed to fix a lot of the issues for next year's ride. 100 miles on the bike in Napa with a bunch of pretty ladies? How can I complain about that!?
Shoot to a couple weeks later, we got really muddy. We participated in the Columbia Muddy Buddy. It is a hybrid mountain biking and running event you do with a partner. Basically there are five legs to the race and one starts on the bike while the other runs. After a mile or so you have to do an obstacle and switch places. Kelly's bike doesn't have a quick release seat post so we used my Cannondale F5. It's a bit big for her but she managed very well.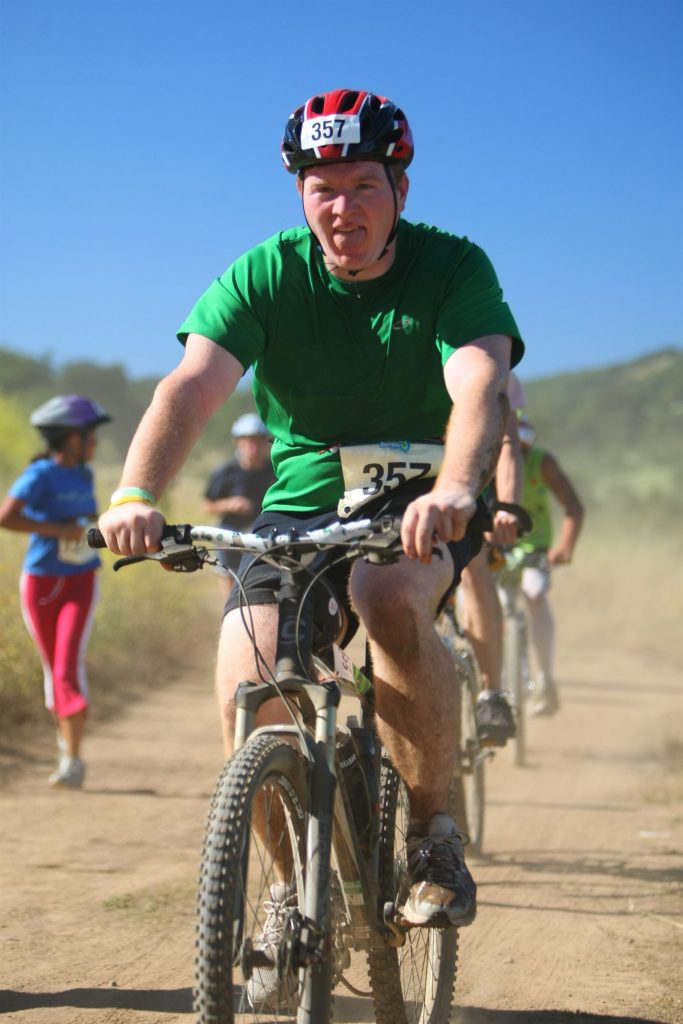 I rode the mountain bike first.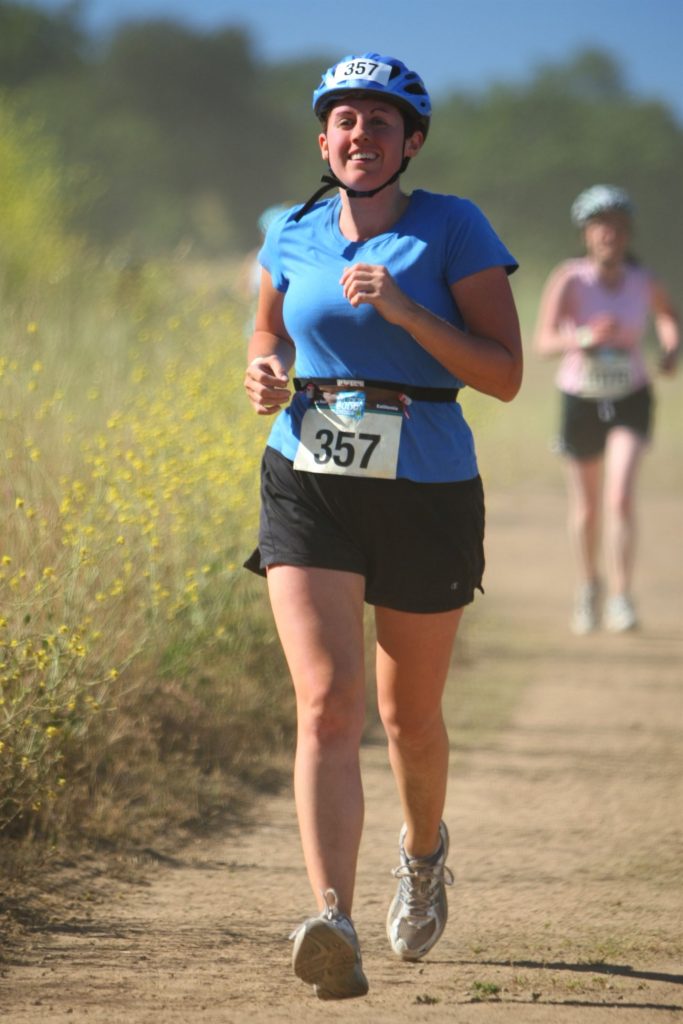 Kelly ran. You're required to wear a helmet at all times, not that Kelly shouldn't since she falls a lot even on good surfaces.
I did 3 legs on the bike and 2 runs and Kelly did the opposite. The obstacles were pretty easy. A wall climb, a cargo net climb and slide, balance beam, and crawling under some net. Those weren't much of a challenge, but the first leg of the bike certainly was. Almost right from the start line was a pretty intensive climb in dirt and it wasn't very wide to handle our starting wave. Combining that with not being able to wear my SPD shoes/pedals since we had to run made it very hard. I had to walk up a patch since there was people still walking from the wave before us and I lost traction. ugh! After that it was pretty smooth sailing. Until…….
At the very end of the race you have to hook up with your partner and crawl through a pit of mud. We weren't nearly as muddy as a lot of other people but we were still covered pretty bad. Kelly thought it would be cute to splash me with mud… which I ate some of obviously. ugh. We ended up finishing in about 1 hour and 6 minutes. I know we could've done much better but didn't know what to expect. I think if we were 10 minutes faster we could have placed in our age group. Next year! 😉
Sorry this is getting long already. The latest event I did was the Silicon Valley International Triathlon. It was my first try at the Olympic distance – 1500 Meter Swim (.93 miles) – 24.9 Mile Bike – 6.2 Mile Run. It was my second open water swim after the Stanford Treeathlon and I felt a million times more comfortable. I do have to work on my sighting a lot more but my form was much better.
I have quite a few photos of this so here I go. (Click on them for huge photos if you're insane)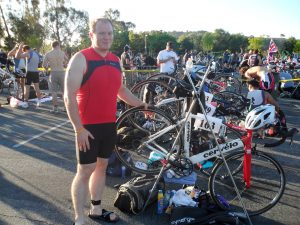 Transition setup!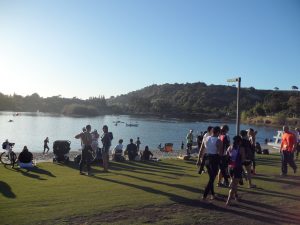 Lake Almaden. Beautiful little lake right off of Blossom Hill road.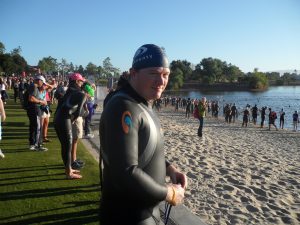 Me before thinking I might die in said beautiful lake.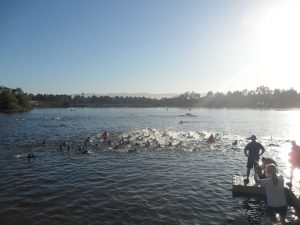 Getting kicked in the face multiple times!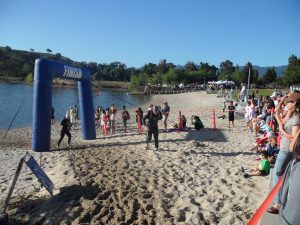 I survived 🙂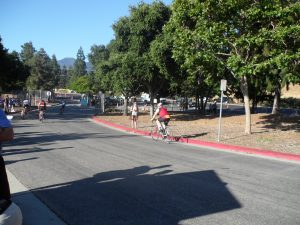 Bike out, stoppp, hammer time!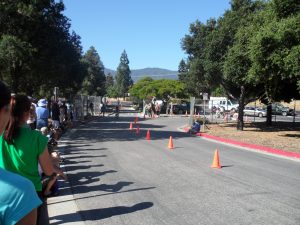 Coming back in on the bike.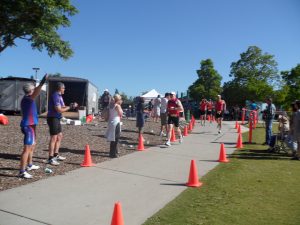 Starting the suffering run.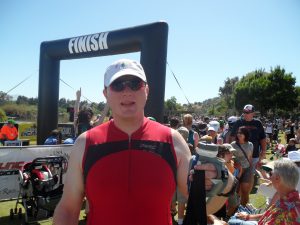 I finished! I look like death but I was really happy, I swear.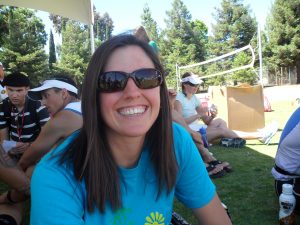 And my beautiful photographer had to get in there somewhere. Thanks for taking the photos 🙂
My time was not very good but I learned a lot from the experience and I'm a hundred times more confident for my upcoming Ironman 70.3 in a few weeks. I had a blast doing the race and it was very well organized and put together. Nutrition wise I drank in 2 scoops of heed on the bike and had a gel before the run. I hammered a little too hard on the bike and suffered a bit on the run but I think it was worth it. I'm a terrible runner anyway so it was expected. I now have times to work on and destroy for next year. I'm definitely signing up for this triathlon again next year.
Next up on the schedule is the Vineman Ironman 70.3. It will be the hardest race I've tackled so far, so I hope I have a positive blog post about that in the near future. Thanks for reading!