I couldn't be satisfied by being just a month late posting my very first half ironman performance so I had to go ahead and delay the posting of my first marathon finish! Exactly one week after finishing the Vineman 70.3 I conquered my very first marathon. Sure, I probably should have spent more time resting and moping around with my feet up and choose a much less hilly course. No way! I couldn't resist signing up for the 2010 San Francisco Marathon. So here's a brief little recap of that unforgettable weekend.
Just like how the previous week started I had to drop off my little beagle off for another 3 day weekend stay the vet for boarding. I know I'm a terrible doggie daddy but I think he really likes it. We leave him there and he barks like Michael Jackson but when we pick him up he's a baritone Barry White. The Barry White bark lasts for about a week before the terrible high pitch screeching bark is back. After working the remainder of the day we head on over to the light rail station and make a connection to CalTrain. It is kind of sad that I live only about a 45 minute drive south of San Francisco but I really hate driving in the city. Parking there is too frustrating and my Irish blood cannot take it. The cool part is though it made for a nice 3 day mini-vacation! Perfect!
Now my friends on the east coast find it hard to believe but San Francisco is terribly cold most of the time. It will be shorts and t-shirt weather in Sunnyvale but a mere 45 minute drive away it is jeans and a jacket weather. This time was no exception at all, but it made for very good marathon weather. It was very foggy and you couldn't even see the top of the Transamerica Pyramid!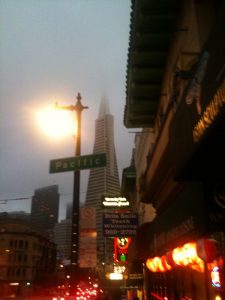 We hustled to check into our hotel and wanted to go to the weekend street food festive, Off The Grid so we headed out quickly on foot. It's a collection of some pretty awesome unique food trucks from the area that congregate in Fort Mason every Friday night. If you're in San Francisco I highly recommend checking it out but get there early because trucks will run out of food and lines are long. I had some pretty good Filipino
style hot wings from Senor Sisig. Unfortunatley in my hunger rage I forgot to take a photo.
However, I did have to get an amusing photo of this on the way back: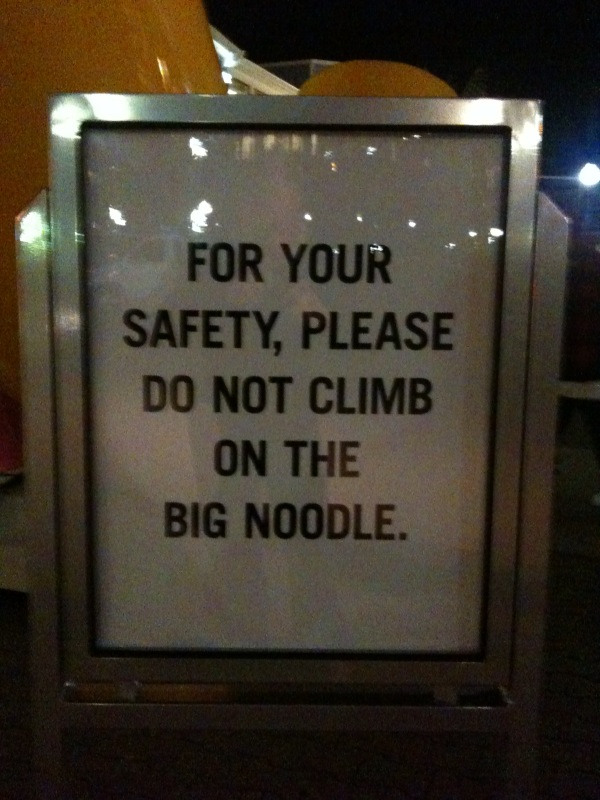 Saturday, expo day, was a nice fun adventure all around the city. We rode the muni quite a bit to avoid walking too much the day before the marathon. I ate breakfast at the awesome farmer's market at the ferry building and had to have an awesome ice cream sandwich from Miette Patisserie inside the fairy building. yum.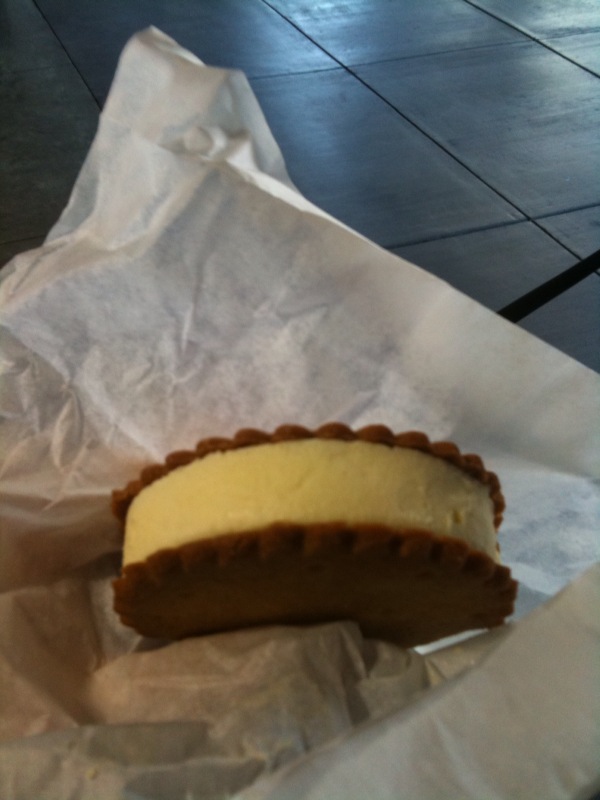 From there Kelly and I hit up the race expo to pick up our goodie bags and bibs. The expo was in an auditorium way too small for the massive size of vendors but it was still pretty cool. I wish I got there earlier to get my photo taken with Dean Karnazes, but the line was huge and he was leaving shortly. I did manage to kind of get a photo of him but I don't know what the hell that dude was doing in my way. haha.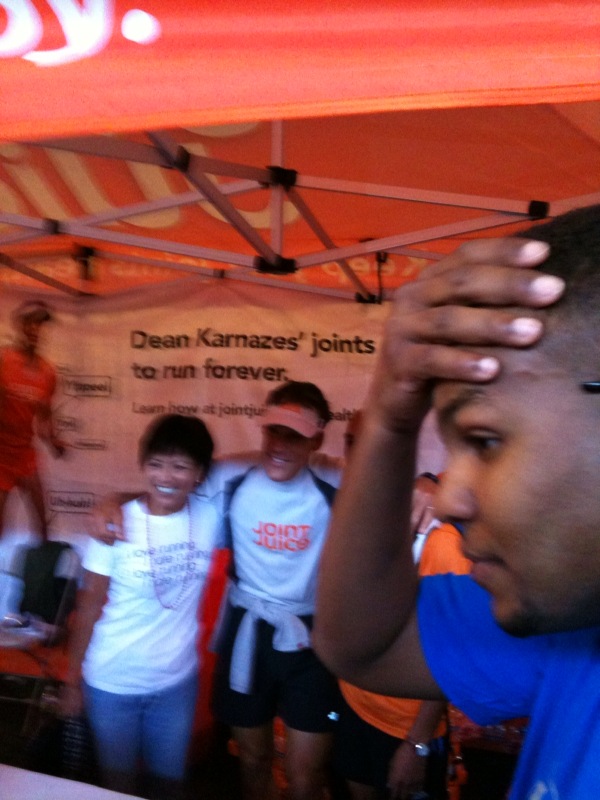 Sports Basement was running a shuttle to their store in the Presidio that we decided to hop on. There is a location in Sunnyvale that we spend huge chunks of money at so we figured we'd see what one of the two SF locations looked like. Yeah it was very similar but arranged into 5 pretty awesome floors. Check out this awesome mural on their wall on the way to the bike shop floor.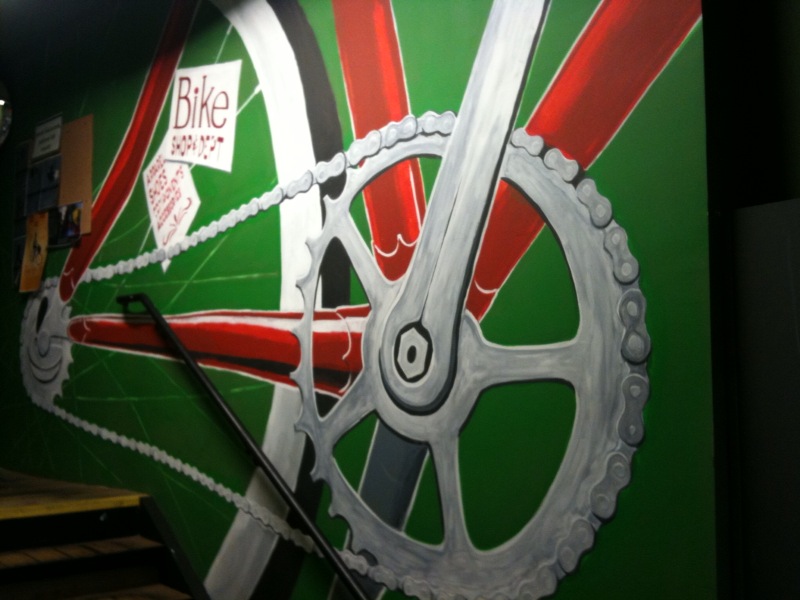 After picking up all our goodies and some 'essentials' from Sports Basement we wandered around a bit looking for somewhere interesting to eat. We stumbled upon Dos Piñas and their yelp reviews looked pretty solid. The food was pretty good but the amazing part was the walls were lined with hot sauces. I drenched my enchilada plate in Dave's Hurtin Habanero… I didn't even get time to snap a photo because I inhaled my food too quickly but I did manage to get some sort of shot of the hot sauce collection!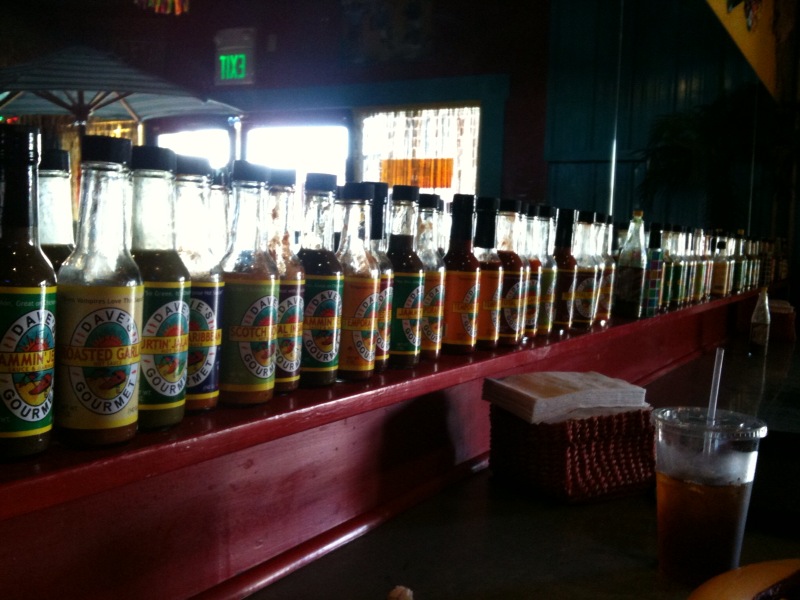 We woke up Sunday, downed a couple of bagels smothered in almond butter and headed out to the start line. Both of us were nervous although I think I was hiding it much better than Kelly was since my nerves were worn out from the Vineman the previous week.
The starting line was insane. Flat out insane. There was two half marathons, a 5k and the marathon all going on at the same time. I don't know the exact amount of people combined but I think reading somewhere it was around 24,000 people. We were supposed to be in the 6th wave but we couldn't get to the front due to the mass of people so we ended up going during the 7th. It worked out fine but we were quite worried about cut off times.
The course was just stunning. It started near the Bay Bridge on the Embarcadero and ran all the way through Fisherman's Wharf and Pier 39 all the way up to the Golden Gate Bridge. We got to run on the roadbed of the bridge because they closed down a few lanes for us on the Northbound side. What a memorable experience. From there it headed down through Golden Gate Park before heading back toward the Embarcadero via Haight street. We even got to go around AT&T park before crossing the finishing line! I wish I had more photos to share but I was kind of busy running.
The first half of the marathon had some pretty intense hill climbs that challenged me quite a bit. I decided to walk most of them to save my legs. My longest run before this was a 22 miler and I certainly suffered a lot on that and didn't feel like I got in enough running because of the Half Ironman Training. The second half of the course was much more elevation friendly and pleasant. My favorite part of the marathon though, oddly enough, was the motorcycle club that was volunteering out there. They were assisting in stopping traffic and cheering us on and they really made the SF Marathon a great experience. I hope they're there next year, whomever they are!
Here are a couple photos, and you can see the gallery on a new section I've been working on here.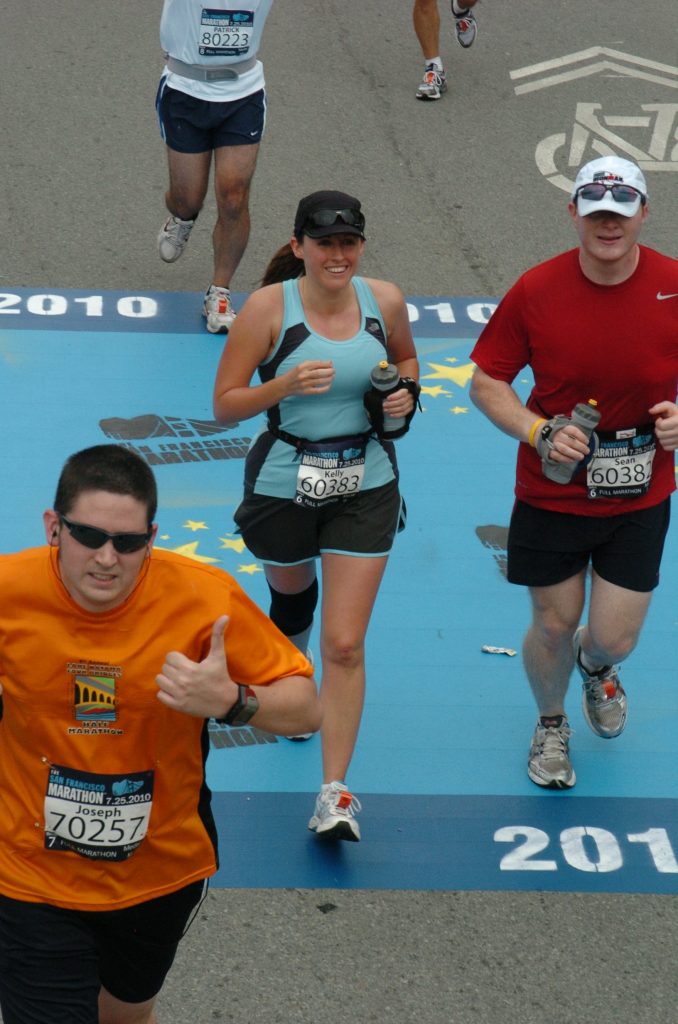 Wish the orange shirt guy wasn't there 🙁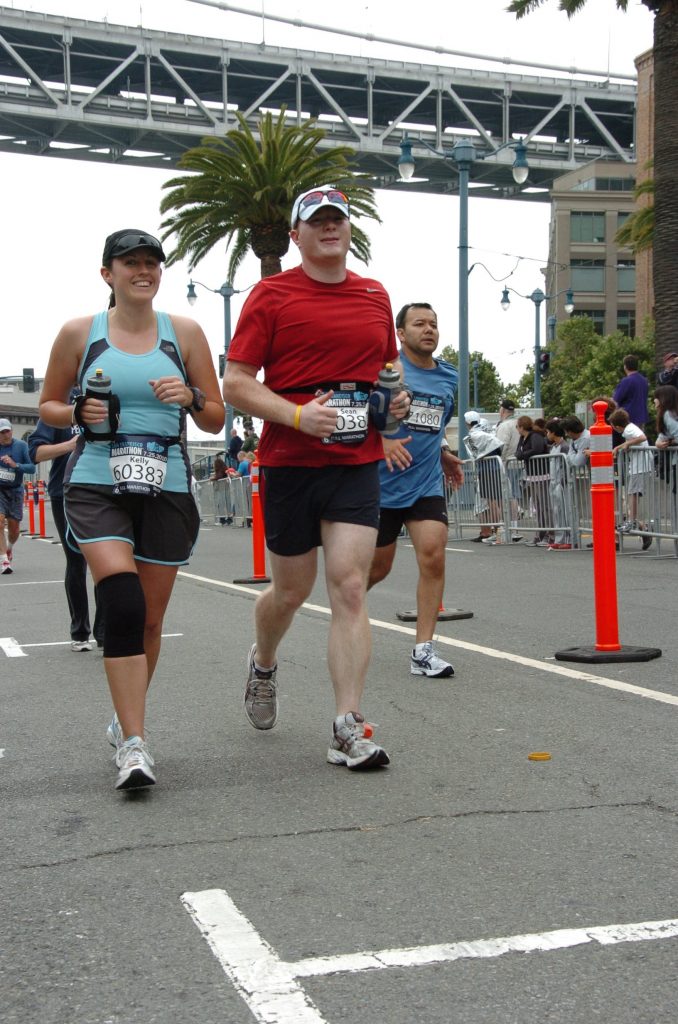 Thank god my wife ran the entire way with me. It was her words that kept me going. (She would have smoked my ass in a heart beat if she ran it her own pace!)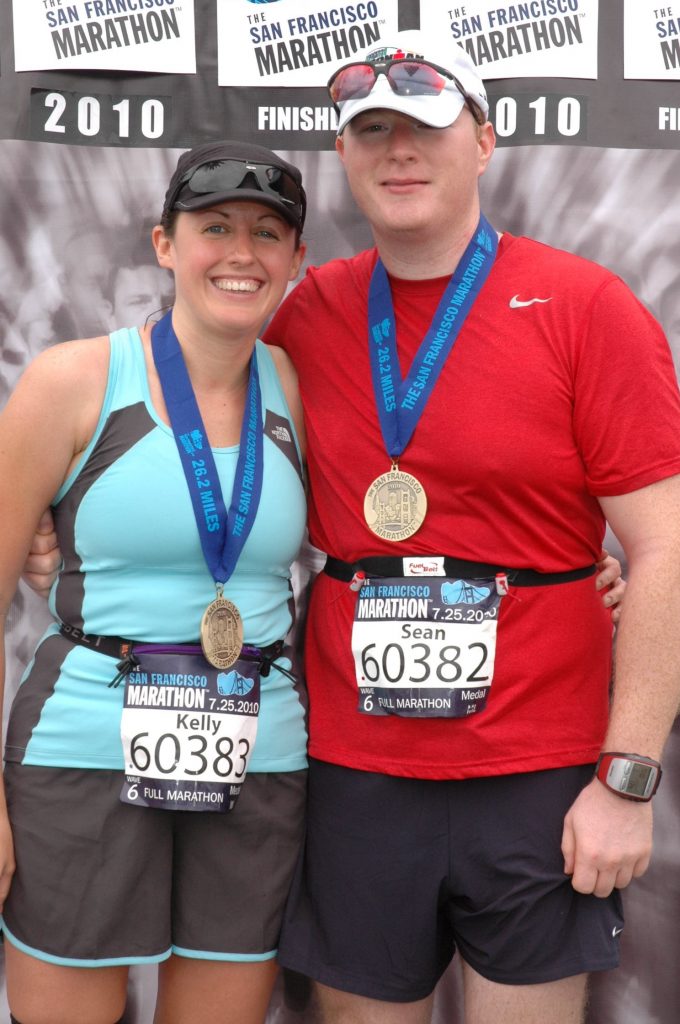 I wish someone told me my hat looked stupid in my face like that before the photos!
Whew, that was longer than expected. All in all I had a great experience during my first marathon. In fact it didn't scare me off at all and I'm signed up for 2 more – Steamtown and the Rock 'N Roll Vegas marathon!
Keep checking back for more updates and drop a comment if you wish. Although the spammer's have been going nuts on here, I do appreciate 'real' comments! 🙂