I got the pleasure of racing in the Vineman Ironman 70.3 on July 18th. It was one of my huge long term goals and here is a brief recap of what I went through.
This really should have been posted last month and I also have a couple more posts that I'm working on that I need to get up as soon as possible. I should be in detention.
Early Friday morning, all the way back on July 16th, I packed up all my tri gear into our Prius, took my lovely beagle Coleco to the vet to be boarded, and headed off to work for the day. After the longest day of work ever, Kelly and I then headed off to Santa Rosa, California for the eventful weekend! My triathlon club, SVTC, was awesome enough to reserve some rooms at a decent hotel located only about a 10 or so minute drive from the T2/finish at Windsor High School. Of course the very first thing we did Friday night after checking into our hotel was head on over to the Trader Joe's to stock up on food!
Saturday morning was the race expo and packet pickup day. This was my first Ironman branded event so I didn't know what to expect. It was very well organized though and my nerves were calming down quite a bit after being around all the other triathletes. I got into the merchandise booth as soon as it opened and picked up quite a bit of stuff. A jersey, tech shirt, tea mug, a tech hat, and a pretty awesome long sleeve tech hoodie. Also worth mentioning was the 'finishers shirt' that was in the packet pickup. Can't complain about expanding my (pathetic) wardrobe this way!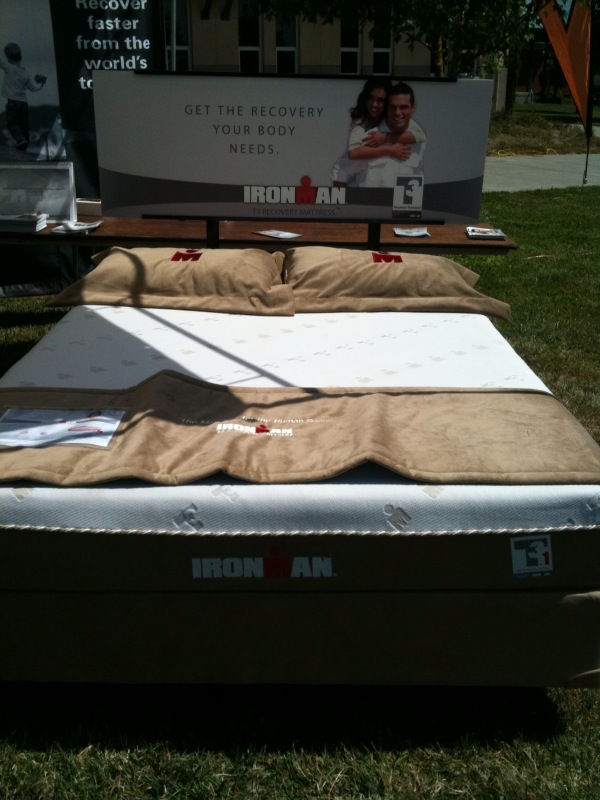 I think M-Dot have jumped a few sharks now – an Ironman branded bed!? haha!
We spent the rest of Saturday afternoon roaming a bit around Santa Rosa. We went to the Life Is Good store where I picked up this awesome water bottle. (I totally saw it on EatingRD's blog and I *needed* to own one) I also picked up a few running and cycling related shirts for Kelly and I. It's a bit on the expensive side but it's good quality.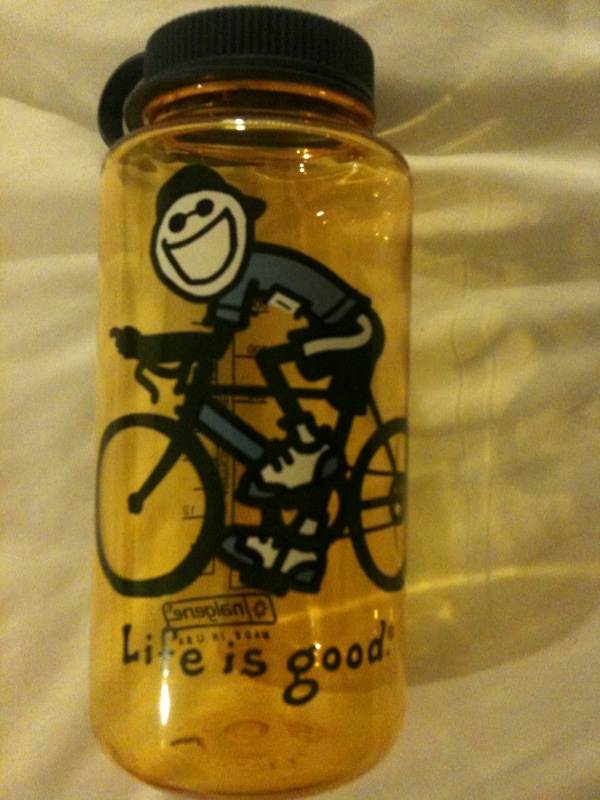 Yeah!
Anyway, on to race morning! If it weren't triathlon evening in a block of rooms for triathletes there would probably be quite a few pissed off people this morning. At 4:45am the alarm went off and Kelly started up the blender we brought to make race morning green smoothies! I downed a bagel smothered in Justin's almond butter and started packing up the car. The swim started at Johnsons Beach in Guerneville which is about a 20-30 minute drive from our hotel. I wish I got there earlier because the racks for my age group were packed to the brim! I'm sure the guy with the Cervelo P3 next to me wasn't happy about me moving his stuff over, but too bad – I somehow beat him out of the water anyway! I also lost Kelly in the crowd after getting my transition setup — and the kicker is she was holding my wetsuit. By the time I found her, utilized the porta facilities, and got the wet suit on, my wave was already getting in the water. I was nervous, anxious and angry but she made me stop for a photo – I don't know how I was forcing this face. haha.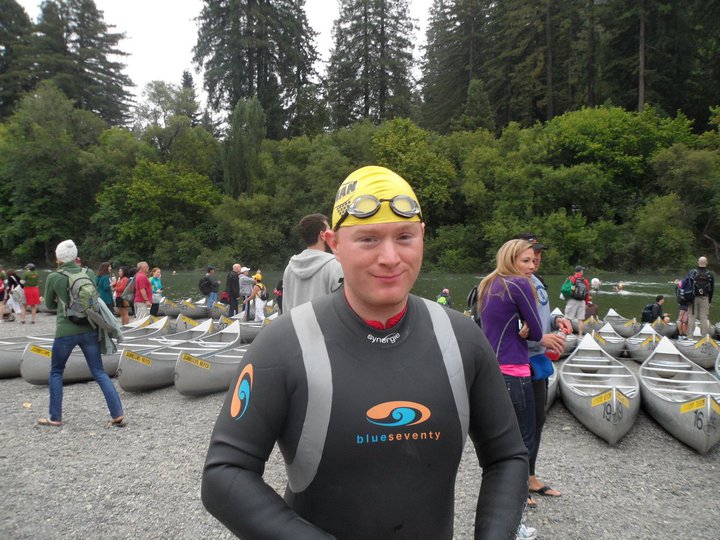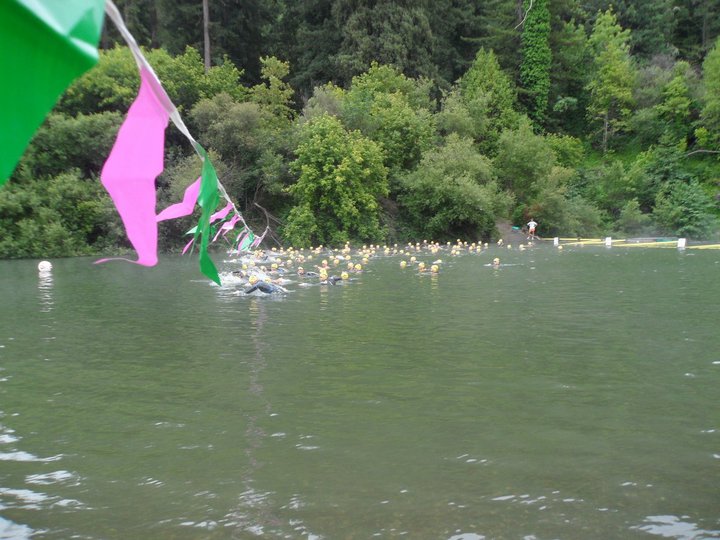 I'm one of the heads in the back.
The 1.2 mile swim was a lot easier than I was expecting. The water was actually very nice and my only complaint was that it was too shallow at some points. I had to stand up and walk during some sections because I was hitting the bottom of the river during my front crawl stroke! That would be fine if the rocks weren't so freaking painful to walk on. I finished the swim in 45:42. Not an impressive swim by any means but I certainly wasn't the last yellow cap out of the water so I was happy. I have a lot of room to work on improving and the fact it wasn't that long ago that I couldn't even swim 2 laps in a pool without stopping to rest.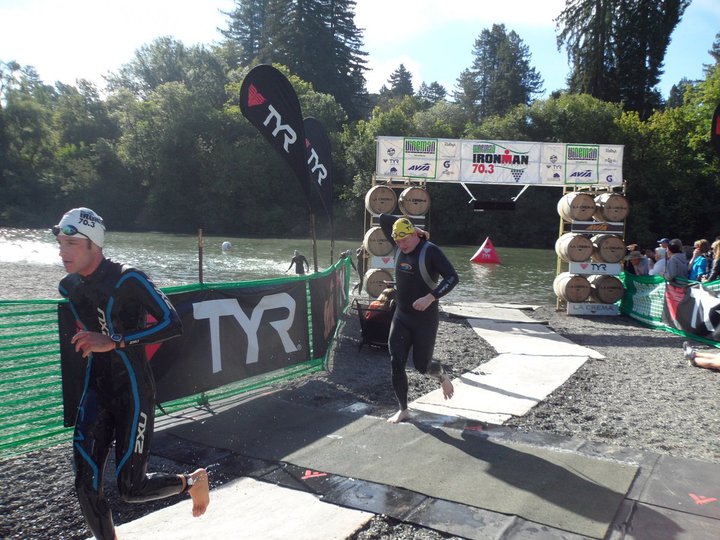 I was allowed to hand off my wetsuit, cap and goggles to Kelly during transition since T1 is quite far from T2. After a slow T1 (I'd like to have a few words and a steel cage match with whoever thought it was a good idea to put this on rocks) I headed out on my favorite part – 56 miles on the bike! This is where I get my confidence booster because I start catching up with some people from the waves before me and a few rare passes by people on buzzing triathlon machines. About 10 miles in I was making a pass and felt a surge of pain in my lower lip. I thought the guy a bit in front of me kicked up a rock or something. I reached down to feel my lip and felt something moving — a BEE was stuck in my lip. I yanked him out and chucked him away and tried to make sure there wasn't a stinger left in there. I had a nice numb lip for the remainder of the day though. The bike course was beyond beautiful. Passing wineries left and right was very motivating to keep pushing on. Unfortunately there weren't many photos of me on the bike but I did get this one. Funny timing since I was half way on the aero bars so must have been shifting when they took it.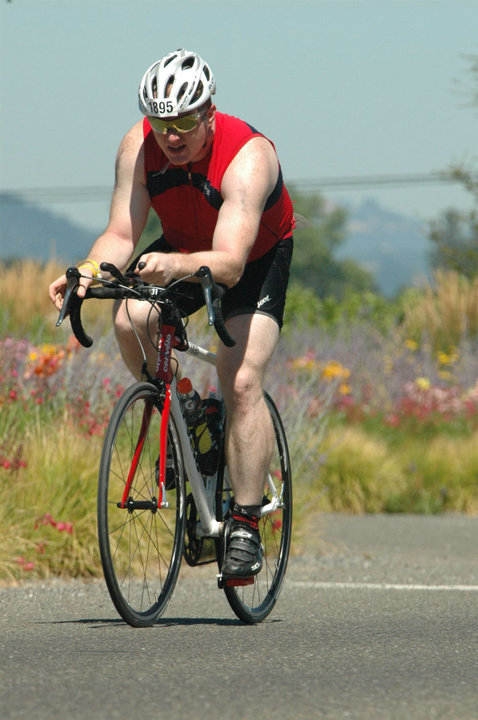 I finished the bike course in 3:09:29. I could have done a bit better but was worried about Chalk Hill. (For wine drinkers, yes this is where the Chalk Hill Winery is located at!) There was quite a bit of talk on how hard of a climb it was and coming at mile 40ish was a killer. I was saving some juice for that and I wasn't even sure when it arrived until I saw some people near the top saying only 400 feet left to go… doh. I did try to make up for it by hammering a little bit more during the remaining miles but I was relieved once I saw T2 in the distance but was thinking about how in the hell I was going to run a half marathon after this.
T2 was a few minutes longer than it should have been but I had to reapply sunscreen which apparently I'm not very good at – more on that in a second. The run course was pretty nice, shaded in some parts, and baking hot in other parts. I was getting tired but wanted to keep on trucking but I could feel my skin baking in the sun. There were aid stations at every mile of the run course and I took advantage of the water at each. I ate some Chips Ahoy at the turn around aid station which tasted sooooo good at the time. I wanted to kiss the girl giving "showers" out there too which consists of just pouring a pitcher of water over my head.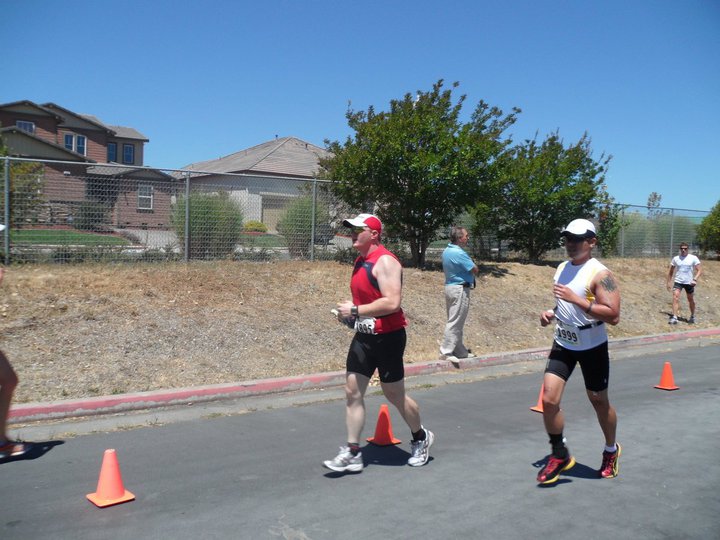 During the second half of the run course I ended up run / walking it until the last mile. I was certainly in pain by then and I could feel my neck and shoulders burning up. I saw the 12 mile marker and my emotions hit me that I was going to complete my first half Ironman so I started running and told myself no walking breaks.

(That time isn't correct since I started in the 2nd to last wave.)
Boy that last mile hurt but I did it all 7:04:36. I have a *lot* to improve on and I learned a lot from the experience. My nutrition went very well for me which was one of my biggest fears. And I hate bees.