Yep, that title means what you think it means. More on that in a few.
It feels good to know I'm actually making some progress on my speed and overall feeling when doing all these events. I got to race in the Santa Cruz Sprint Triathlon earlier this month and came in a few minutes earlier than my first sprint, the Stanford Treeathlon. The big differences being the swim was actually 750 meters and in the Pacific Ocean at Cowell Beach at Santa Cruz, California. The bike course was a bit slower due to some headwinds coming off from the ocean but nothing extremely drastic.
The best thing about it? It was my wife's very first triathlon. In hindsight I should have passed and played the spectator role but it was hard not finishing a 4th triathlon to get my money's worth from my USAT year license. I was on call to work the previous day so I couldn't have done the Olympic distance instead. I also would have been a worried mess if I had to wait on the sidelines though, so participating helped keep me sane!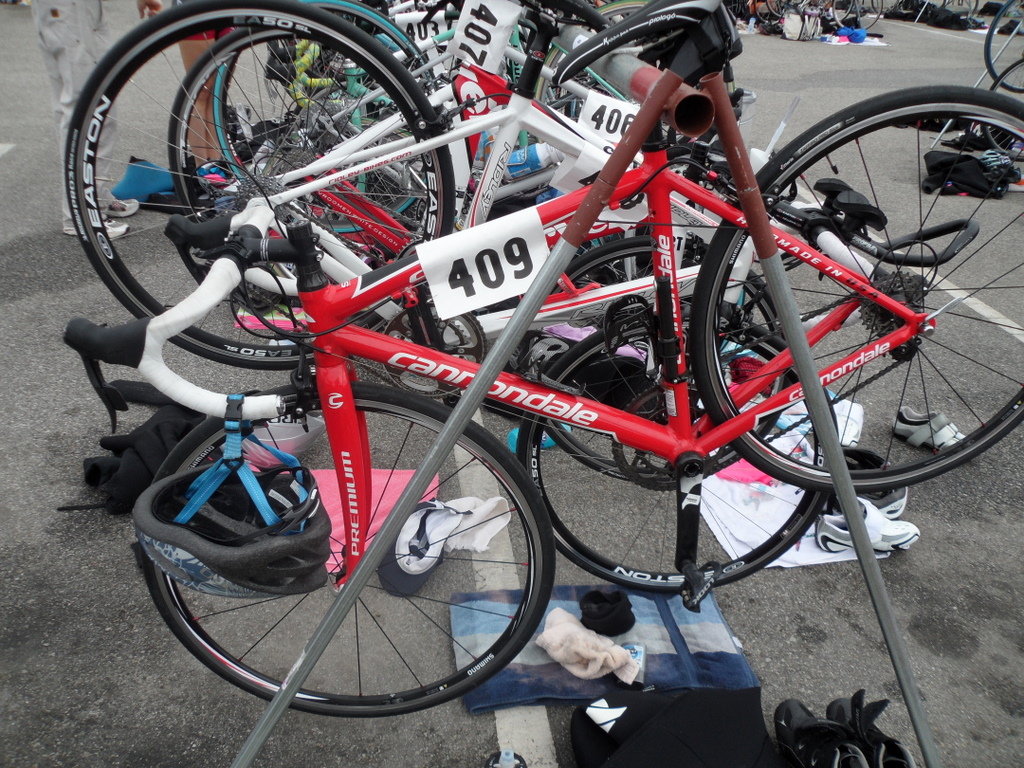 Kel's CAAD9 all ready to get it's tri on.
The ocean water was extremely cold but the wetsuit made it less painful. Kelly, unfortunately, has a sleeveless xterra wetsuit so it was quite a bit colder for her. I talked her into diving in the ocean for a warm up to test the waters. As soon as she got in I thought she was going to seize up due to the coldness. I kept trying to console her and tell her she was going to be fine but I was really worried.
I was in the very first wave so I couldn't send her off. The fun started and off I was into the water. Ocean swimming wasn't really too bad. The waves weren't too difficult to maneuver around in and the water I accidentally (always) swallowed didn't make me cringe too much. Probably because I train in a saltwater pool! During my entire swim I kept thinking how the hell is Kelly going to do this… my god … and I was right. She died in the water that day.
Er, no she didn't. She did great! She said she altered her swimming stroke quite a bit and didn't do a very good time for her, but who the hell cares since it was the very first triathlon and in the hardest water I've seen so far. I was on the run portion when she was cycling by on the road and I was so happy to hear her voice yelling at me. I didn't even have time to yell back to cheer her on!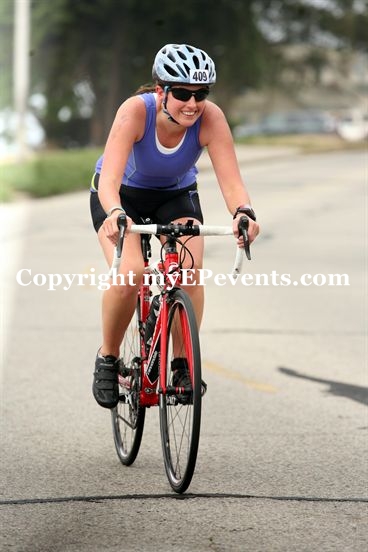 The bike leg, my favorite, went really well. I ended up with the 9th best split out of 28. I could have probably squeezed another spot or two if I was more familiar with the course, but that's my fault. It feels good to have better splits on my road bike with clipons and stock wheels than some of those beautiful triathlon machines with deep dished carbon rims. Of course I'm sure they smoked by me on the run! 🙂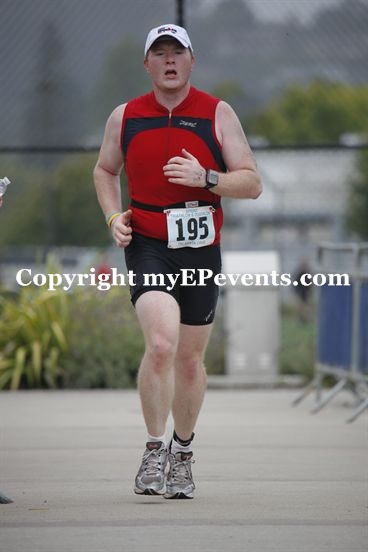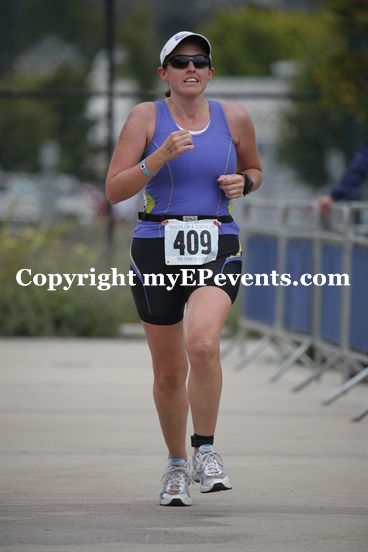 The run course wasn't too bad, flat on the sidewalk path near the ocean. It was definitely beautiful but I certainly didn't set any 5k records on that. Kelly makes it look easy but I swear I wasn't suffering as much as how silly I look!
As soon as I was done I got my medal, got some of the awesome free pizza, and headed back to transition to get my camera. I was able to see Kelly coming in off the bike and going out on the run! I got myself in a great spot to see her coming back in from the run and was so happy to see her cross. I know once she's more comfortable in open water swimming I'm going to get chicked by her. 🙁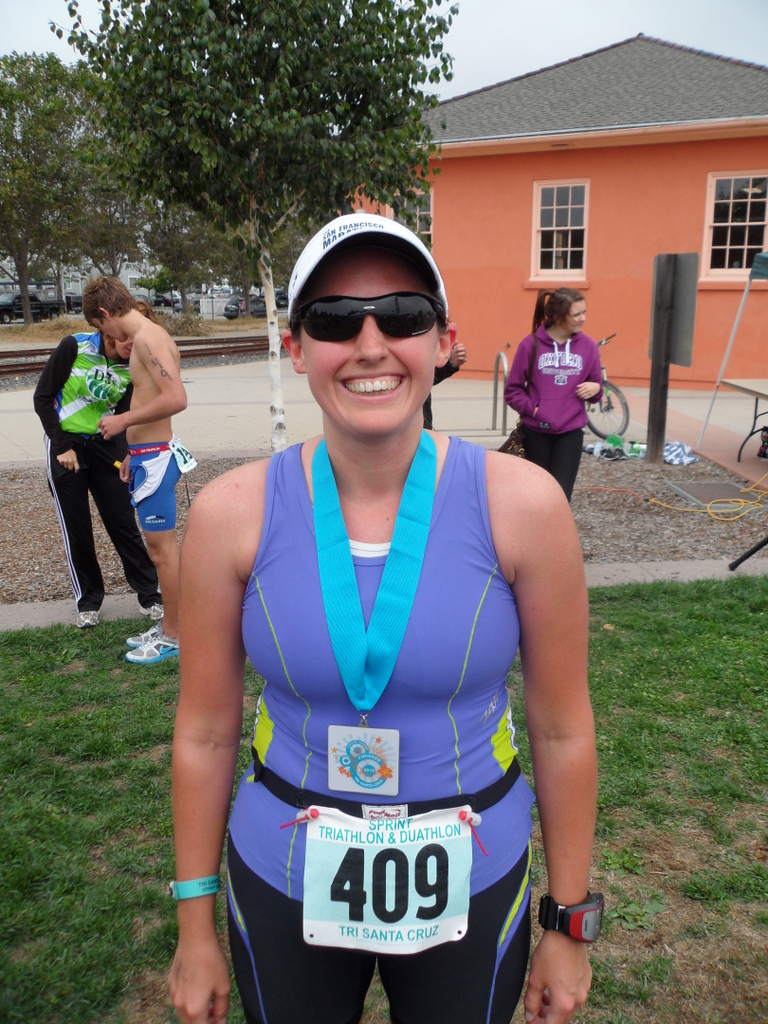 We celebrated the great day by going to the Seabright Brewery for some delicious burgers!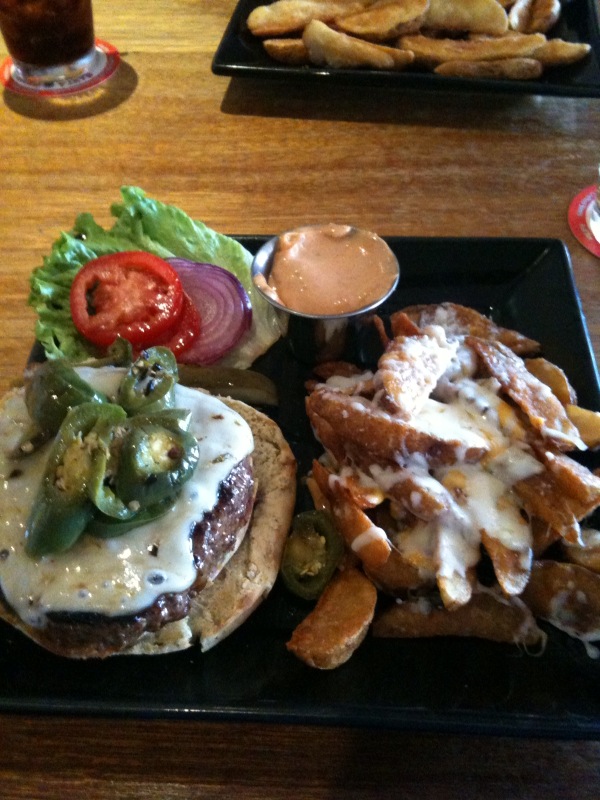 (om nom nomnom omom.)
It was such a great day and just like San Francisco, somewhere we should go to much more often. It's only 45 minute south of us – and SF is 45 minutes north of us! Argggh!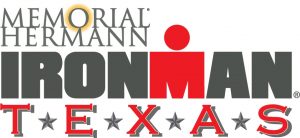 Yep, that news from earlier is true. Within minutes of the registration opening I have signed up for the inagural Memorial Herman Ironman Texas Triathlon. In May of next year I will be traveling to The Woodlands, Texas and swimming 2.4 miles in Lake Woodlands, followed by a nice 112 mile tour of the Texas farmlands on a bicycle and cooling down with a 26.2 mile run (walk) through The Woodlands. I'm already nervous and scared but I know it's going to be a hell of an experience and it just so happens to be on a very special day – our wedding anniversary! I will update on my training routines and results through the blog and over especially over on The DailyMile. If any one else uses it please add me, I need friends there!
I promise now that I'm up to date I will update this puppy much more often. I just can't promise that the photos are going to look much better than these.