It has been five years since I went 'home' to visit friends and family in Scranton, PA. A little over five years ago, as a newlywed, we packed up all our belongings into a rented Penske truck with my rotting 1993 Subaru Legacy on a car porter towed behind it and made a long drive from State College, Pennsylvania. The final destination was Sunnyvale, California. Only a 2,732 mile drive. Oh yeah, did I ever mention I'm afraid of heights?
The last time I flew on an airplane we had a really rough landing at the Wilkes Barre/Scranton Airport. That experience made me avoid airplanes as much as possible. I promise I wont let five more years go by without visiting but I'm not quite over the fear yet! 😉
Moving onto the epic journey: I'll be the first to admit it: I really like mass transit. My journey home involved everything except a boat. I would have liked to ride a boat though so I'm not discriminating.
Here is what it looked like:
I took the bus to work, worked 8 hours, got on the light rail right outside, transferred to Caltrain in Mountain View, transferred to the Bart at the Millbrae Caltrain/Bart station, transferred somewhere (San Carlos?) to the Skytrain to the San Francisco airport. Then after a long 3 hours of sitting around we boarded that Airbus… and somehow I managed to make it to Philadelphia where my in-laws were waiting for us. What a travel day…
The main "excuse" I had going to Scranton was to run in the Steamtown Marathon. The only experience I had with the marathon during the time I lived there was playing for the runners when I was in the Scranton High Marching Band. I never thought I'd be one of those people running it.
It started very early Sunday morning in almost freezing temperatures. I know I've finally adapted to the California weather standard and it felt like -50F there! The marathon was unreal. There was actually more volunteers than runners. 2500 runners and over 3000 volunteers… and that is not counting all the people who came out to support the runners. It was unreal running through all the small towns that I never even knew the name of when I lived there!
During training I basically kept the same structure before with the long runs on the weekends and short runs during the week. The one thing I did change was introducing some short speed work in one of the shorter runs and the results paid off. I came in 57 minutes earlier than I did in July at the San Francisco Marathon! So my new PR is 4:23… so I only need to take another hour and some change off before Boston…. yeah right!
The other days I spent catching up with family and friends. Since it was five years I had a LOT to catch up on. I wish I could pack some of them up and ship them out to California. Here are some photos of some of the fun and strange things we did.
I ended up getting a cold that put a big damper on things but we still drove down to State College, PA to see the alma mater… Penn State! We walked around the campus looking to see what has changed since we left in '05. We even walked past the spot where I proposed to Kelly. 🙂
The trip was fantastic. The marathon was just the sprinkles on the chocolate fudge sundae. It was great seeing family and friends. I *promise* that I won't take another five years to go back and visit.
…
How do I know, you ask?
Well…
Kelly and I signed up for this: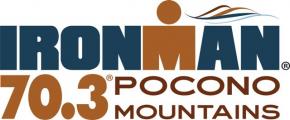 It is only a little over an hour drive away from Scranton and makes the perfect "excuse" to come back in next year. It may be Kelly's first 70.3 (although I doubt this, I can already feel the Vineman vibes coming from her!) and the Steamtown Marathon is the week after… sounds like a plan!