About one year ago was when I picked up running when I completed the Steven's Creek Trailblazers 5k. I tried running a few times leading up to that race but never really gave it much effort and failed on following through on the Couch to 5k program a few times. Something at that race clicked in my head and it revved up some internal running engine. I didn't participate in this year's Steven's Creek Trailblazer because the Santa Cruz Triathlon was the same date… and well I have a lot more fun running when I can swim and bike to warm up. After that first 5k I decided to go with it and register for the Bridge to Bridge 12k run in San Francisco the next weekend! So I went from struggling at the 5k distance to struggling at the 12k distance in one weeks time. It hurt but it was the good kind of hurt… and it woke up the inner-beast.
In fact I kind of look like a beast! Here: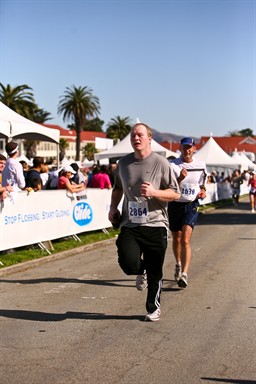 I made two very rookie mistakes.
1: San Francisco is cold in October so I thought wind pants would be a good idea. Not so much because after 30 seconds of running I was drenched in sweat.
2: Don't wear a non-sweat wicking hat either. My dumbass wore a hat to "keep the heat in" and ended up carrying it in my hands during the entire race.
… Jump to one year later …
Race day arrives and I show up with a race belt, spi belt, sweat wicking shirt and visor! Yeah buddy, I'm in business. I even slathered some unmentionables in BodyGlide! I was ready to rock it. And I did. I finished 16 minutes earlier than last year. My run speed is probably terrible compared to the average runner but I don't care – it was a huge personal accomplishment to me. I felt validated for spending a year training and getting stronger. I could have knocked another couple minutes off it to if I wasn't holding back a bit for that little Steamtown Marathon coming up next Sunday!
The photos for the Bridge to Bridge aren't up yet, but here, have one from the Santa Cruz Triathlon that I did the previous weekend.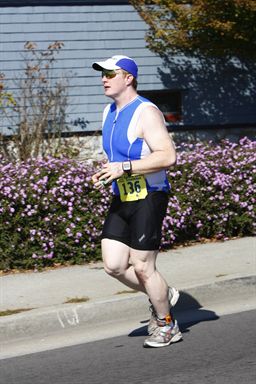 At least look like I know what I'm doing now!
The Santa Cruz Triathlon – Olympic distance – was a blast! It was the perfect race to end the triathlon season with. I won't go into details because I'm getting yelled at to finish packing my luggage, but the only problems I really had was with my swim sighting. I was happy to get under 3 hours for my finishing time, and I look forward to knocking that down another 16 minutes at least by next year! Here are a few photos from the race: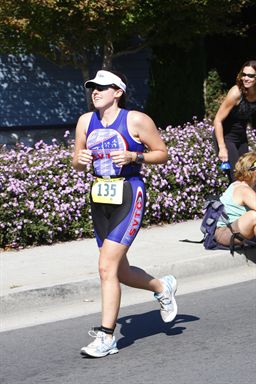 Sorry for the quick recaps, but I'm heading off to bed. I'm getting on a plane after work tomorrow to fly to Scranton, Pennsylvania to visit family and friends. I'll be running in the Steamtown Marathon on Sunday too. I have no worries about the marathon but I'm terribly scared of flying ever since experiencing a terrible landing coming into Avoca, PA. Hopefully I get myself in check by tomorrow!