First off, I'm quite late but hope everyone had a happy thanksgiving! And I hope you got sauced!
Carrying on…
Ho ho ho!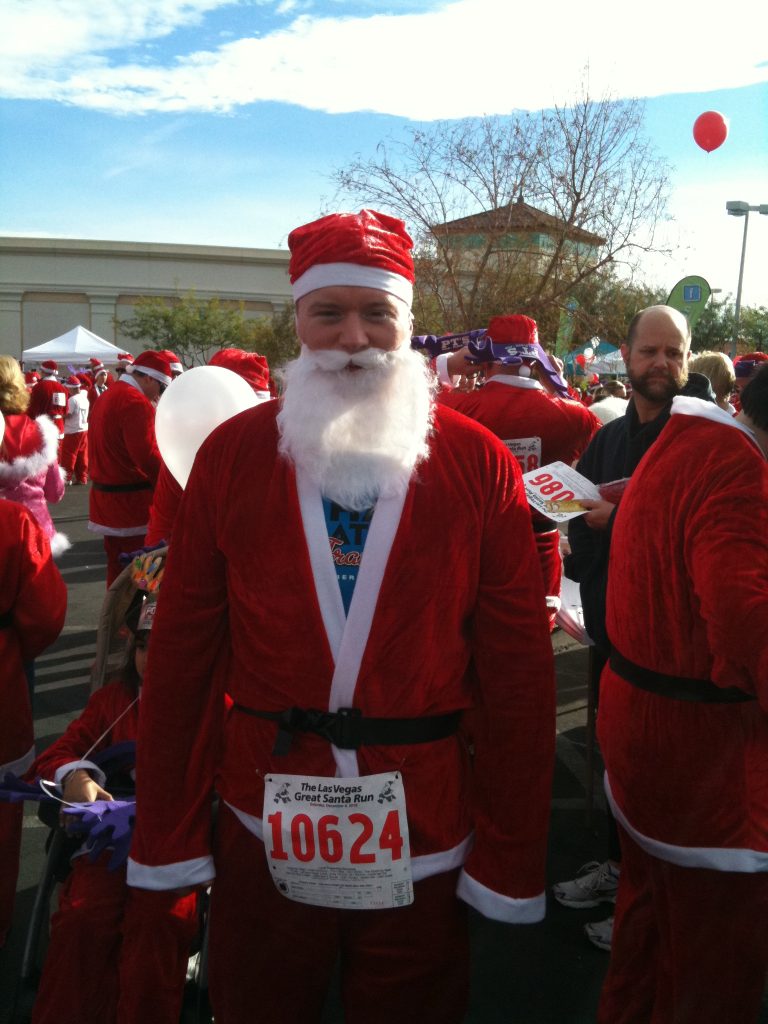 Haven't had too much going on in Seanland over the past couple of months, but I did just get home from a nice little mini-vacation in Vegas! Kelly and I flew (ugh) over to Vegas for a few days to meet up with her parents. It was a trip to celebrate his 60th birthday! We stayed at the Monte Carlo.
Well, of course, there has to be a catch to get me onto an airplane. (Hey, I've driven 9 hours to Vegas twice already) We got to participate in two different running events – The Las Vegas Great Santa Run and the Rock And Roll Las Vegas Marathon.
The Great Santa Run was a blast. It was a run to break the Guinness Book of World Records for the largest gathering of running Santas. (I think.) We ended up breaking the record with over 13,000 people dressed as Santa participating. It was in the Las Vegas Town Square and there was about 8,000 more people there than I think it could reasonably support. We couldn't even do the 5k 'run' because of the sheer amount of Santas. Plus the organization was terrible – nobody ever told us how many laps around the parking lot it should have been. Either way I can't complain since it really wasn't a race in the first place. Here are some photos – I should have taken much more.
Anyway, we did the normal touristy stuff and some light gambling while there. And of course I took advantage of all the buffets since I was in Vegas and that's the only time I allow myself to eat into a food coma anymore. I didn't really take any photos there though. Not really sure why!
Saturday afternoon we had to go to the mandatory expo for the Rock And Roll Marathon to pick up our race packets. The bib numbers for the race were humongous! The expo was insanely large too – much larger than the cramped San Francisco Marathon expo. I think there was about 28,000 people doing the race. It was at the Sands convention center. Yes I requested this photo to be taken:
The race started at 7am and the strip was closed off because the half marathon (and the first half of the full marathon) was on the strip. It was pretty surreal running down the middle of the strip without all the taxis, buses and escort mobile billboard trucks going down it. The survey hints that they may try to do a night race for next year – that would BE AWESOME! I think it was a bit too early for the real Las Vegas to be out in full force.
The race itself was nice for the first half, but the second half was a bit of a downer. The scenery wasn't that great since it left the strip and had us looping around some other part of Vegas. Yeah, we even passed Larry Flynt's Hustler Gentleman's Club. Classy. There was plenty of water and sports drink stops. They used Cytomax, which I'm not exactly a huge fan of, but it got the job done I guess.
The race did not go well for me. I was hoping to break 4:20 but would have been happy with a 4:30. I fell apart after like 6 miles in and ended up over five hours. I could not control my heart rate at all – I would run and it would go up to 181bpm which is my 10k pace and I can't sustain that. I would walk a bit and it would drop down. Start running and bam right up there again. I slowed my pace down to a 11 minute mile and it was STILL going to 180bpm. Needless to say I spent the majority of the race run walking. I don't know what really went wrong – my training lately was not that great but I should have had enough fitness to not suffer as much as I did. I almost didn't want to take the medal when I crossed the finishing line because I felt I didn't do what I should have done. Hell I probably spent the 2nd half of the marathon with my head down – but that was probably for the better since there wasn't much to see anyway.
I tried to avoid the photo takers since I looked and felt like utter crap but they got a few of me:
I know I shouldn't be so down on myself, but I really expected better of me. I felt stupid when people were yelling and encouraging me that there was only a couple miles left, etc. (That especially sucked when it was nearing the half marathon finish and everyone kept yelling only 1 more mile!)
Anyway – I have to use this as a lesson and motivation to not slack on training. I hope I can whip myself back into shape.
One last thing – Kelly's birthday was yesterday. Happy Birthday!!!