Holy cow, the last real update I did was right after the Silicon Valley Long Course Triathlon from June? I suck. I need to post more often. 🙁
I certainly haven't laid off doing events at all since June. Since the SVLC I have done quite a few things. From the middle of 2011 to 2012 I think I've done:
Ironman Vineman 70.3
The San Francisco Marathon
Santa Cruz International Triathlon
Labor Day Run For a Healthy World, Sunnyvale Baylands 10k
Steven's Creek Trailblazer 10k
Ironman Poconos 70.3
Steamtown Marathon
Campbell Oktoberfest 5k
San Jose Firefly Run 5k
NorCal Warrior Dash
New Years Run for a Healthy World 10k
Hey, I like race shirts and bibs. It is a good way for me to build up my wardrobe of t-shirts that are way too big for me.
Instead of boring anyone with little details I'm going to plow through these with some photos thrown in. Sound good? Splendid.
Ironman Vineman 70.3
This was my second year racing up here in Sonoma county and it was much more pleasant than the first year. You can read my recap of it from the previous year over
here
. I finished in 6:28:02, about 36 minutes faster than 2010. I had an ok swim and bike, but as usual the heat really got to me on the run and I ended up walking a ton of the course. Some day I'll drop enough weight and learn to run. Maybe.
This was Kelly's first attempt at the Half Iron distance and she did well! The Silicon Valley Long Course was pretty close to the distance, but the terrain is a little more forgiving than what Vineman offers. She finished in 6:45:49. She brags because she did better than my initial time… but I think the weather was much nicer this year! 😉
Here are some photos of the Vineman 70.3:
The San Francisco Marathon
Second year of this puppy too! 4:51:47. I fell apart during the second half. I don't even remember what lame excuse I had but believe me, it was a really good excuse! Trust me! Still did better than the previous year, but I really want to get back to the 4:15 range. 🙁 Here's some photos!
Maybe I should change the title of my blog to "That Creepy Guy at the Races" ?
Kelly did well, clocking in a new PR. Very impressive!
Santa Cruz International Triathlon
I love this race. It's a month or so before the bigger Sentinel race at Santa Cruz but that doesn't take anything away from it. Well organized and laid out. I finally bought new race wheels and this was my first time getting to test them out. Was happy to get a 1:08 bike split.
Labor Day Run For a Healthy World
A cute low key race at Sunnyvale Baylands Park.
And here is one of my favorite series of photos. This was taken coming down to the finishing line – this guy passed me maybe about a quarter mile back. I may not be good at endurance running, but I still have the sprinting skills left in my legs. It made for a good photo and we were laughing about it at the end. 🙂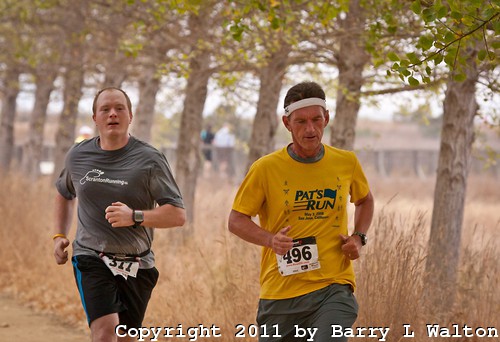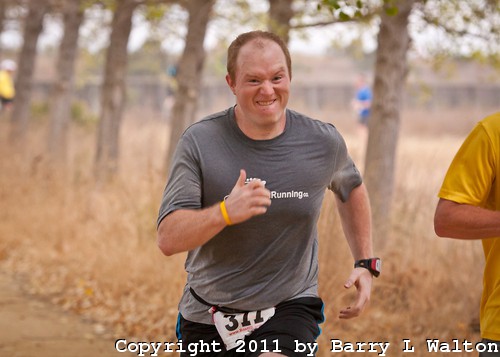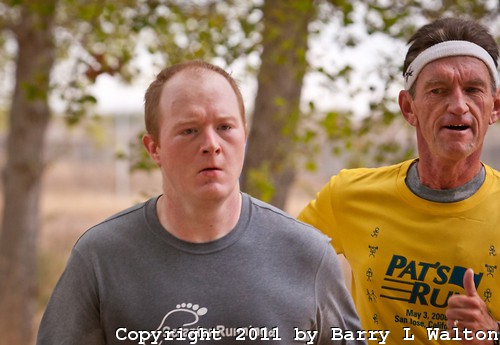 Steven's Creek Trailblazer 10k
This was my first race I ever did three years ago and I guess it kicked off a pretty bad addiction. My work sponsors it and a few people from work showed up.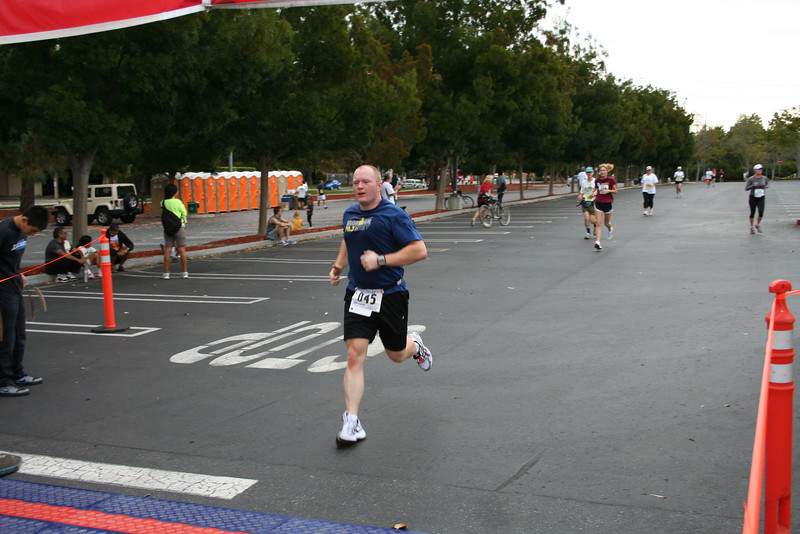 Ironman Poconos 70.3
This was just a mess. We traveled back to Pennsylvania to do the inaugural Poconos 70.3. The swim was cancelled because of the heavy rains that were happening the previous week. We walked down to the river and saw huge logs, branches and other junk just flying down the river. That would've been really dangerous to swim in.
The road conditions for the bike course weren't very good. I don't know if I'm just spoiled from being out in Northern California now where the roads don't get much abuse from mother nature. The combination of humongous potholes and still wet and slick conditions made me give up any semblance of actually racing this. I just took the bike course easy and even got off my bike at one point to help a girl change a flat tire. I think I'd wait a couple more years before doing this one again so they can iron out some of the kinks.
Steamtown Marathon
My second time running in my hometown marathon and I had a complete meltdown. I didn't bring along any of my salt tablets and the heat just absolutely destroyed me. I walked the last 10 miles and had my first ever visit to the medical tent afterwards. My blood pressure was sky rocketed and I needed electrolytes very bad. I sweat buckets even on cold days, so I should have remembered to bring my salt tabs. This sucked.
Campbell Oktoberfest 5k
This was one of two races for the day. This is an awesome run put on in Campbell at the Los Gatos Creek Trail – same location as the Valentines Day Run. Kelly was pissed that she got passed by a beer in the last mile. hahaha.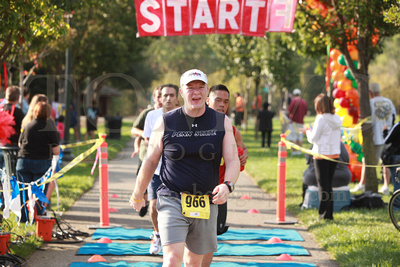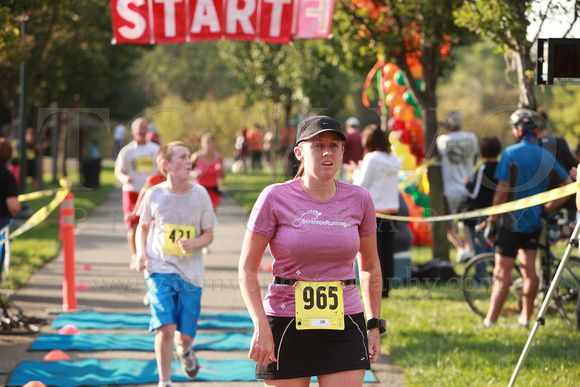 San Jose Firefly Run 5k
After the Oktoberfest run we got some food and rested our legs for a bit. Then later that night we headed to the Willow Glenn area in San Jose for a night run. Everyone was lit up with flashing lights and there was a lot of neat costumes. We agreed we weren't going to run it hard. Then the race started and we changed our minds.
NorCal Warrior Dash
This was the second year doing the Warrior Dash and they made a *lot* of changes to the course this year. There was a lot more obstacles then the previous year. I presume they wanted to make it more like that tough mudder stuff – but at least this was still timed. It was a pretty good time but I don't know if I'll be back next year.
The mud pit was fun of course. Instead of crawling like most people I decided just to swim in it since it was quicker. It got a good reaction. My shorts fell off at the finish line because of all the mud in them and I was standing there in my boxers. hah.
a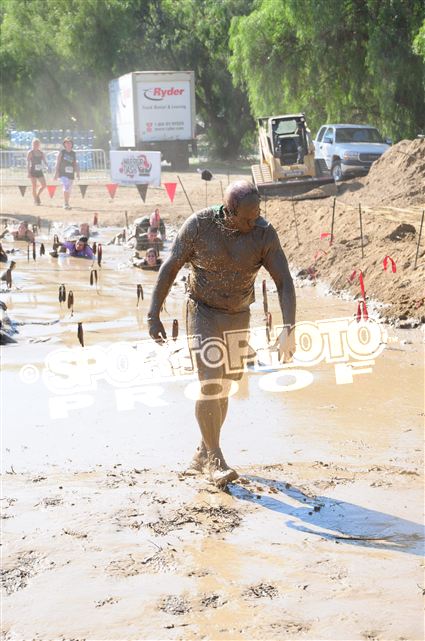 New Years Run for a Healthy World 10k
And per our tradition – start the new year by running a 10k out at the Palo Alto Baylands. And then scurry home to watch the bowl games. 🙂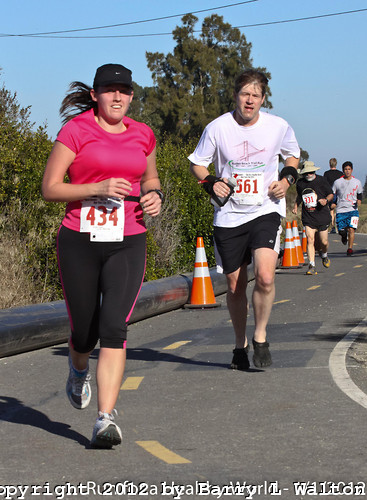 There was a few more little runs in there like the Santa Cruz Jingle Bell 5k that I couldn't find any photos from. Oh well!
That was how I spent the end of 2011. Now to start working on a quick post to get 2012 up to date.