I was scheduled to do the Ironman US Championship in New York on August 11th. It was my second Ironman, the first being Ironman Texas which you can read all about over here. I think I'm going to split the trip into three blog posts so I don't overload everything. 😉  If you just want to read the race specific post, please skip this one and head on over to part 2.

I drove to Texas because I believed it would be logistically easier with all the gear I had to take and the other thing I hate to admit: I hate airplanes. I hate the silly TSA security, I hate the style of travel, and most of all I just hate being stuck inside a big metal tube 30,000 feet in the sky.
So I decided to take the train to New York City. Yep, I took Amtrak across the country and back. The excursion was going to take 3 and a half days and be a vacation all unto itself. Unfortunately Kelly couldn't get the extra time off for the ride to New York, but she would be joining my for the train ride back to California. I did it solo! It gave me plenty of time to polish up on some materials for two certifications I'm working on (CCNA/Securty and the  CISSP) so I can't complain at all. It was very stress free.
I had to take two trains, on the first and longer route I booked a roomette to myself. This means I get a tiny little room in a sleeper car all to myself and it includes all of my meals in the dining car. (Hey, the Amtrak steak is actually REALLY good, and the herb chicken was quite tasty!)  On the second train I just stuck in coach to New York City.
The first train was the California Zephyr which has to be one of the most gorgeous routes through the United States. It passes through the Sierra Nevada (oh my god I have to spend a lot more time up there) and the Rocky Mountains. I was awestruck with some of the scenery. My photo skills aren't very good and my two "awesome" cameras are an iPhone 4S and a Samsung Galaxy Nexus.
Have some photos!
It was really nice to be at the station without those butterflies that I get when flying. Everything was stress free and the people were very nice.
I boarded the Zephyr and quickly found Kelly from my room. I tried talking her into sneaking on into my carry ons, but she wouldn't do it. Grr.
Here's a few scenery photos I took while around the Tahoe area.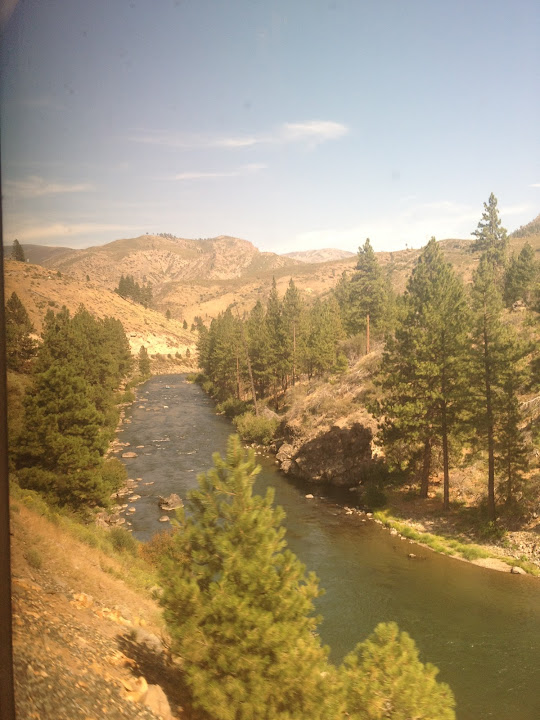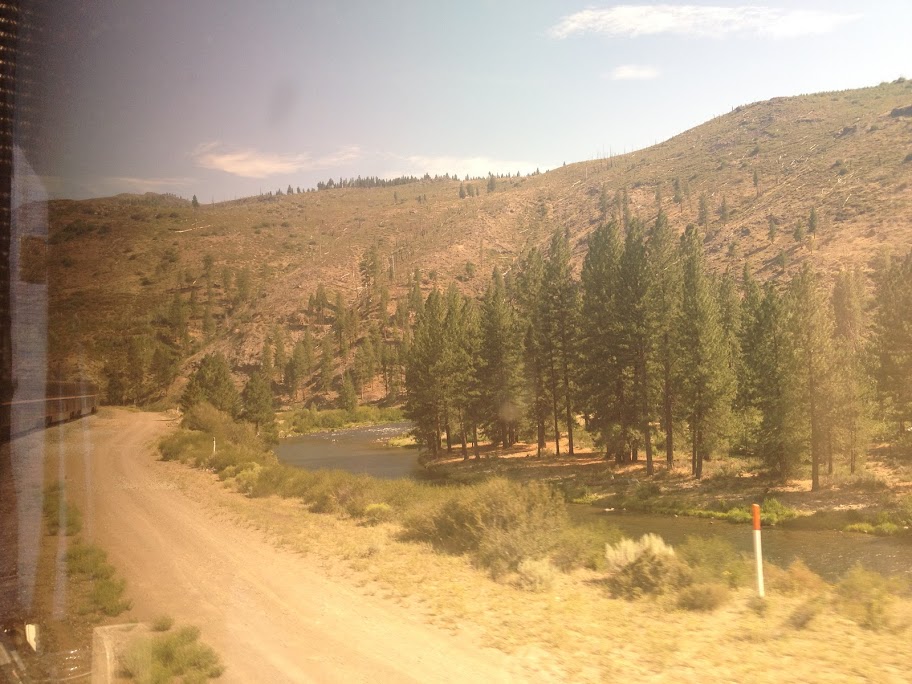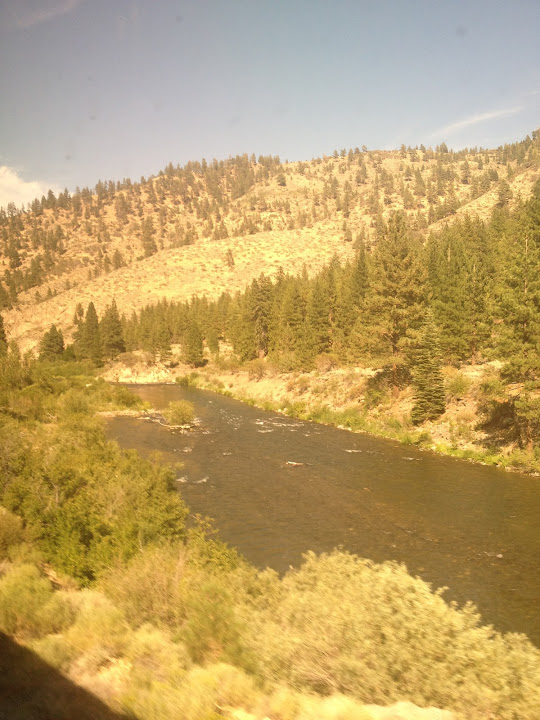 I am totally in love with the Lake Tahoe area. It was easily the prettiest place I have ever seen. I haven't really spent much time up there and that's a shame since we're only a few hours away in the bay area. This will change.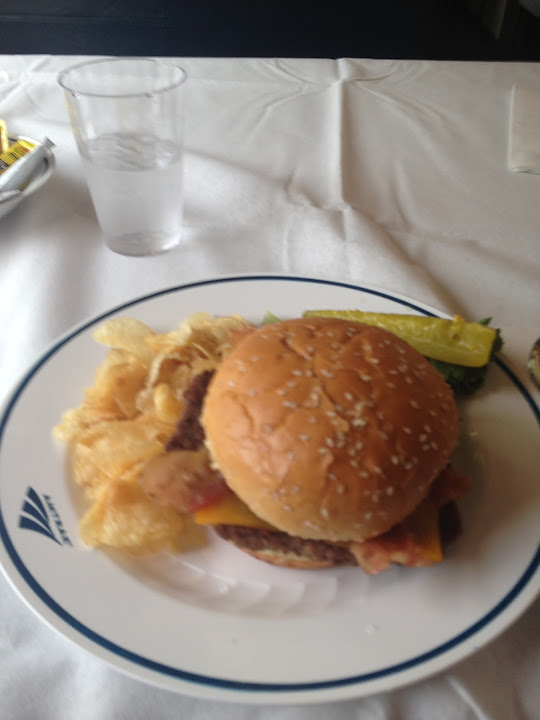 Like I said earlier, the food on Amtrak was actually really good. I was totally expecting some lame microwaved meals but they proved me wrong. You sit communally at the diner car tables with other travelers so it's really easy to meet new people on the train. The most memorable one being a couple who live in London. (and they were over here in the US with the Olympics going?!? wtf!?)  They were talking about all the traveling they were doing in the US and what parts they liked the most. Funniest thing of all was the guy really liked Budweiser. He ordered a few and even had some Budweiser swag. (Glasses case with their logo on it even … hah!)
The attendant on my sleeper car was Debbie. She was incredible. She learned my name pretty much instantly and was asking about my trip. Totally first class. She made up my bed while I was at dinner and I got to sleep in this configuration. The two seats fold down into a single bed. It wasn't The Four Seasons, but it was far from uncomfortable. I slept really well.  The next day would take us through some more beautiful terrain, namely Colorado. We followed the Colorado river for 200 some miles and it was gorgeous. Have some badly taken photos!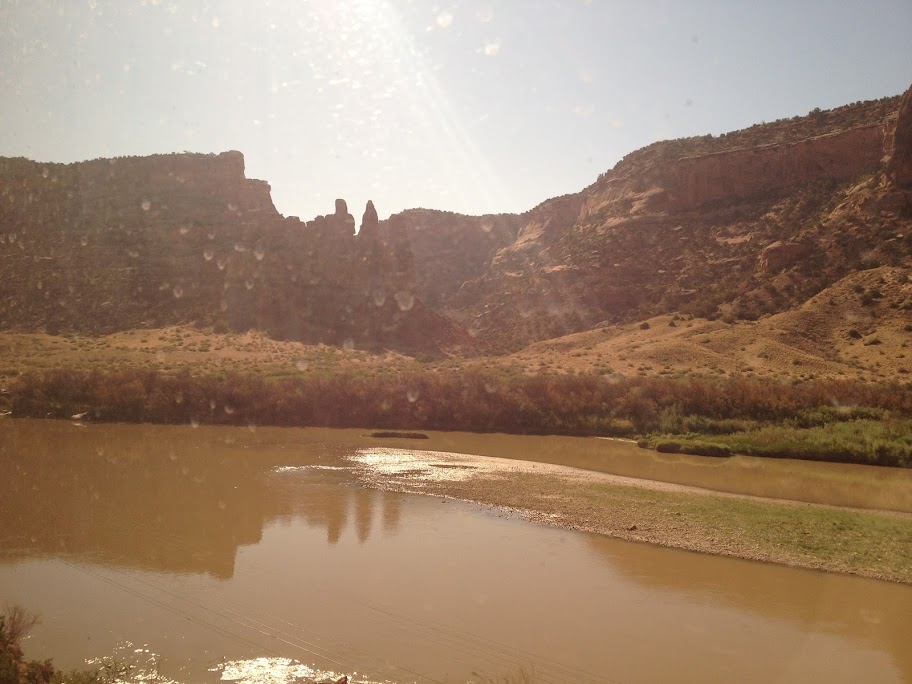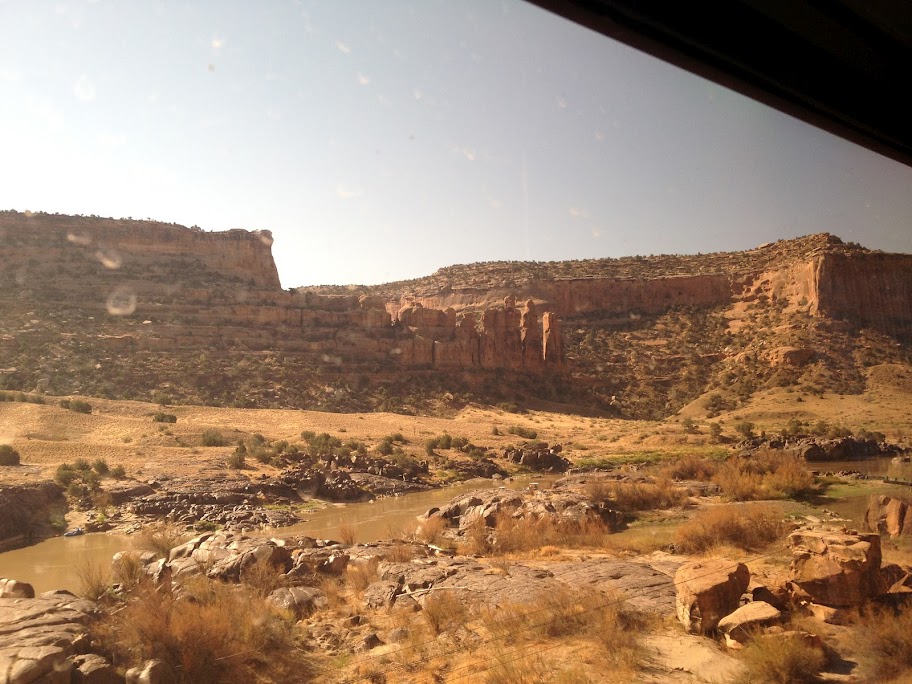 We stopped in Grand Junction Station. Small town but very unique. I felt like I was in an old western movie.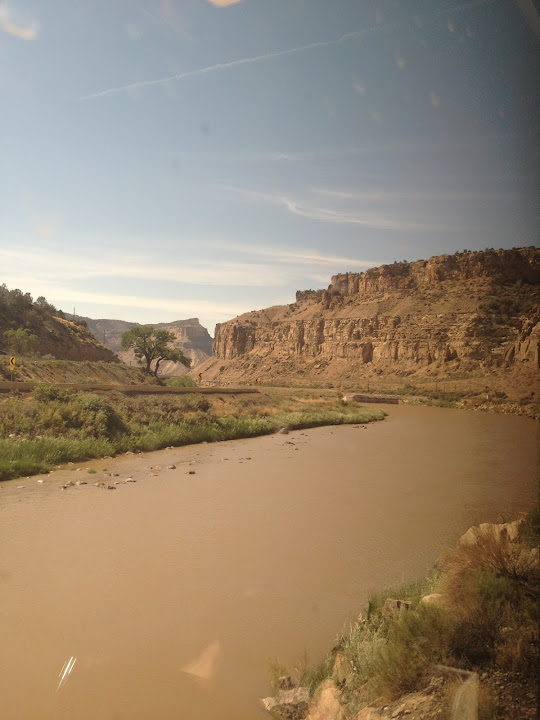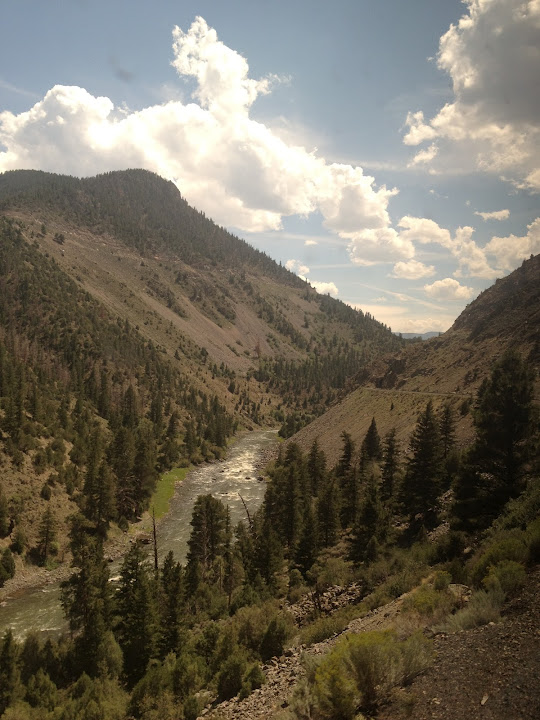 Our next real "stop" stop was in Denver. We had a little under an hour to wander around. I was jogging a bit and loosening up the ironman ready legs. The Rockies stadium was right next to the amtrak location. I wish had a little more time to explore but was afraid of missing the train so I didn't venture all that far away. 🙁
I spent the rest of the day mostly studying and hit the sack early. Chicago would be coming up that afternoon and I had a long layover to wander around the city.
I wandered around Chicago a bit, but since I had a large bookbag, laptop bag and a big carry on suit case I couldn't go too far. The Sears Tower is only a few blocks away and I was trying to track down a hot dog cart. Couldn't find anything and I was bummed. Fortunately I had another layover on the return and a wife to help carry the equipment!
The train into New York's Penn Station. It was late when I took this. I was in coach, but it wasn't bad at all. Not very noisy. I had a seat partner but he was quiet. I had my headphones on and got in more valuable studying time.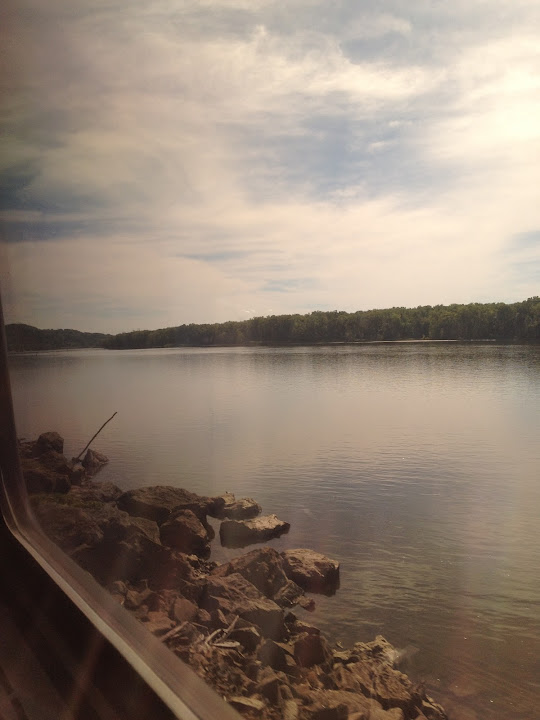 I didn't take many more photos. I was getting a little antsy by then and was ready to hop off to get a good sleep in and head to the Ironman expo.
We were staying at the Ironman host hotel, The Sheraton New York near times Square,  but I didn't really want to pay the expensive almost $300 a night rate for the day I was going to arrive. I was able to book a room at The Americana Inn while I was on the train. The rate was really good. It's a no frills hotel and you share a bathroom but it was super clean and couldn't beat the location at all. I was super happy with this — they have the "you're not going to be in your room much anyway" philosophy and I agree. Highly recommend that place.
Anyway, the next morning after I got in a good sleep, Kelly arrived! She flew into JFK and was taking a taxi over to my hotel to hang out until the check out time and head to our fancy-shmancy hotel. I was so happy to see her. We headed to that hotel, checked in and headed to …………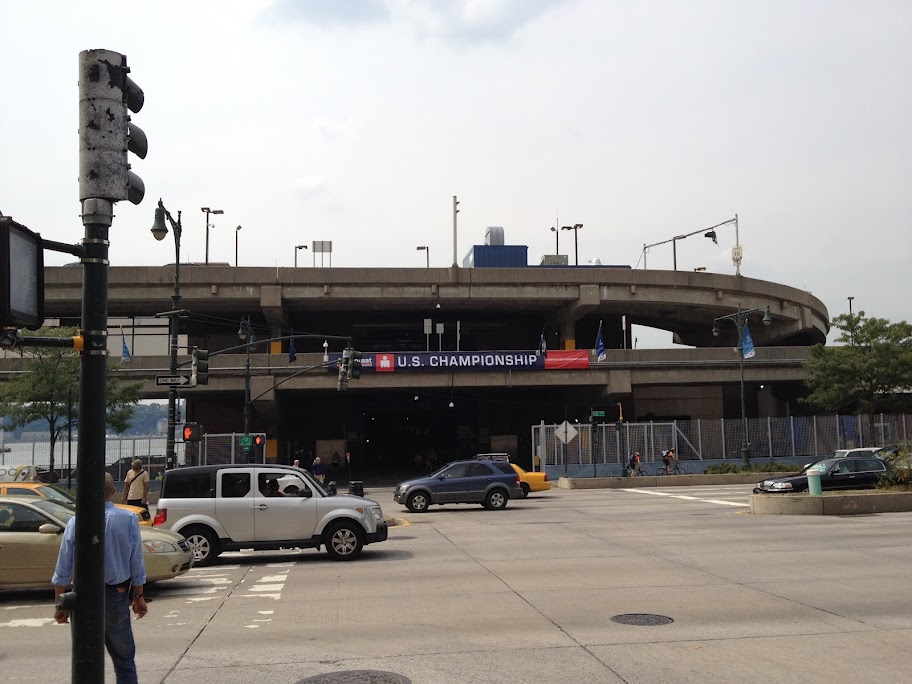 Pier 92 where the Ironman expo was ready to welcome us! Stay tuned for the next update where I'll detail the race in all it's glory!
For all two or three of you that are reading this (Hi MOM!!!) you can check out all my photos on my picasa web album here:
https://picasaweb.google.com/112488671120703156549/IronmanUSChampionshipTrip?authuser=0&authkey=Gv1sRgCPiwj-Kkgbz1Hg&feat=directlink
Will update soon! 🙂