You can read my first post over here.


Logistics for the Ironman US Championship was very unique to any race I've ever done before. It's very understandable since, you know, the race was being held in the biggest city in the United States. After checking into our hotel we had to head to the Ironman expo to check in, get our bibs and swag bag, and pick up our bicycles.
We checked in, picked up all our bib stuff and had to weigh ourselves. I'm not sure what the point of that was — I guess Ironman wanted to know how fat I was. At least I was only 4 pounds heavier than when I left home… and I was wearing clothes. woo hoo!
Instead of the smaller mesh bags that Ironman were giving out at previous races, they started to give out these awesome HUGE backpacks. I love it. Very roomy and I retired the one I brought with me to use this one for the trip home. Inside the bag has all the standard goodies, some coupons, samples and even an Ironman U.S. Championship license plate frame. They're going in a good direction on these things.
Instead of shipping our bikes or bringing them on the train/plane, we utilized the TriBike Transport Service. And OH MY GOD was this TOTALLY worth it. We shipped them via FedEx last year for the Poconos 70.3 and it was more of a hassle. I couldn't imagine doing that in New York City.  With TriBike Transport we dropped them off about a mile away from home at Sports Basement in Sunnyvale and picked them up at the pier outside the expo. Can't complain! We wandered around the expo, got our bikes and went back to the hotel to prep them up.
After getting our bikes back, we had to head back out and get food.  We, of course, had to go to the Hello Deli, made famous by David Letterman.
And Rupert Jee was there of course! The dude is awesome. Youtube some of the skits he has done with Letterman if you don't believe me.
I … got the "Big Ass" and laughed like an idiot when Rupert Jee said "your big ass is ready!" … it was delicious.
The next morning Kelly's parents and brother arrived. They were our support squad! Was pretty awesome having them here. They came out to Texas for my first too. How cool is that?
We had to head on down and board the ferry with our bikes to drop them and our gear bags off at transition. It was a cool ferry ride over to Fort Lee, NJ.  Here's a bunch of photos I snapped.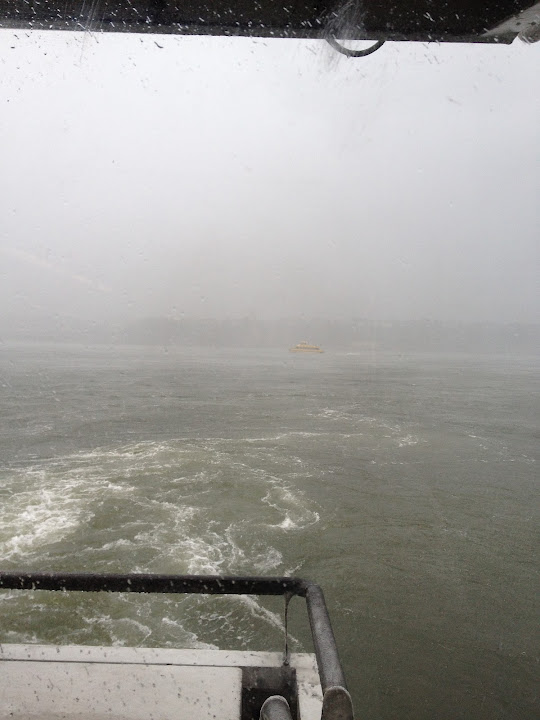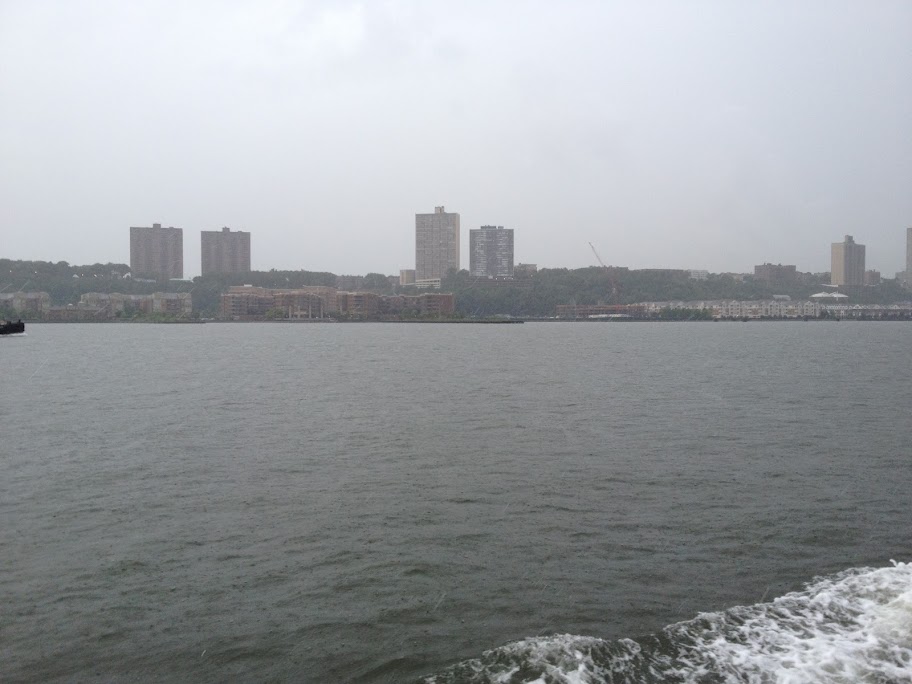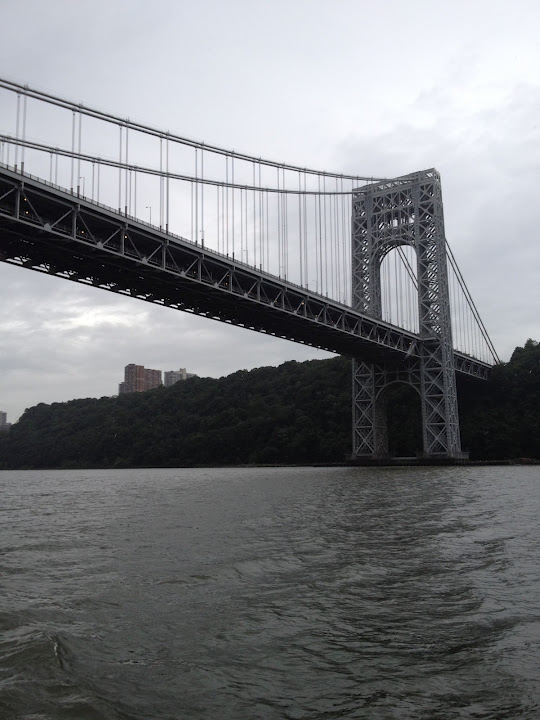 And now to get on to some of the race details. We got to sleep in pretty late … we woke up at 2am. Downed some food (I think I ate a chocolate croissant and various other things) and got dressed. We headed down to board the athlete ferry to transition.  Things were about to get real!
My best memory of the whole trip was sitting in the ferry terminal waiting for the all aboard signal. The volunteers and staff got on the first ferry and when they were walking by boarding all the athletes started clapping. It was an awesome thing to see.
We headed out on the nice 30 minute ride to transition. I was already starting to sweat due to the humidity. I knew it would be a long day and I wasn't sure if I could cut it. I have a very high sweat rate… eeck!  We dropped our run and bike special needs bags off and queued up in line to fill up our tires. Mike Reilly was already there and announcing everything (The official voice of Ironman) but it wasn't making me as nervous as I was over in Texas.
At 6:00AM-ish we boarded another ferry that would take us 2.4 miles up the Hudson to the barge where the swim start was. We stayed on the boats while the pros went off – both the male and (I believe for the first time they got their own wave) the female pros. It was amazing to watch. Then right after that they started queuing up the athlete boats and getting us into the water time trial style. I believe ours was the 2nd or 3rd boat. We only stayed on the barge for a few seconds before taking the plunge into … THE HUDSON.
The swim was very fast. I forget what time the current went in our favor but it was pretty early into the swim. I finished it in 56:10 and Kelly came in right behind me at 56:27. The water quality actually seemed fantastic until about the last 50 meters of the race. Then it was dark when you put your head in the water and you can smell the pollution. It was very gross. Right before getting out if you stood up you were up to your crotch in murk.
Unfortunately Andy Naylor, a 43 year old police officer, from Hong Kong passed away during the swim. I was swimming a bit to the right of the river and the boat was motioning for me to move further to the left for spacial reasons. Such a tragedy. 🙁
Headed into transition:
Unfortunately Finisherpix and our support crew didn't get any photos of Kelly during the swim exit. 🙁
Took my time in transition and headed out for my favorite part. The bike!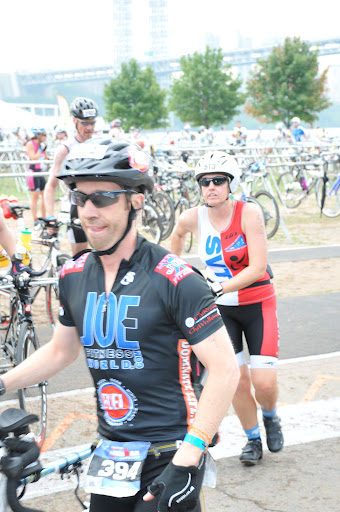 I was a bit cocky about the bike course. I road the computrainer course file a few times and felt the rolling hills weren't too bad. Well, throw in some humidity and make those rolling hills much worse than expected. My legs were toasted. I was shooting for around 5:30 but quickly knew that was out the window a bit before the halfway point. I unfortunately missed my special needs bag because I was stuck on the left passing a large group of riders and couldn't pull off to the "NASCAR Style" special needs setup they had. I would've liked to take more of my nutrition with me from that but ate the rest of my honey stinger waffles and used up the last of my salt pills. I was taking 3 capsules per hour but had to ration them out a bit during the 2nd half of the bike.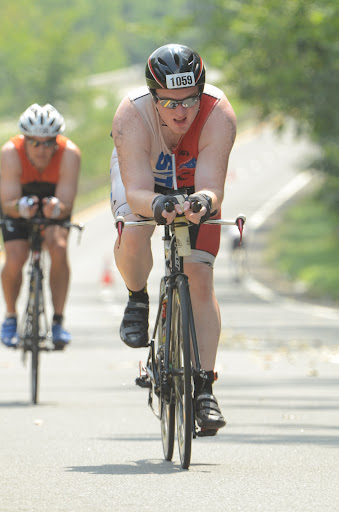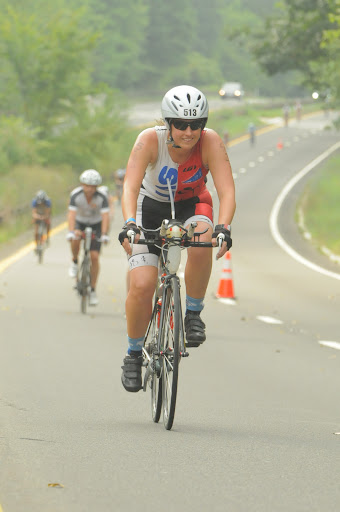 The last two or so miles of the bike I just gave in. I couldn't get in the aero position anymore and that "little hill" from the computrainer was tearing me apart so I was sitting up and just rolling in. I came in 10 minutes past my time in Texas, but was happy that was over. Believe it or not but it wasn't as humid in Texas that year and this course was a bit more difficult in my opinion. I finished the bike in 6:33:58.
I headed into transition and just sat there for a bit inside the changing tent. Drinking as much of the water as I could and just trying to regain composure. Was definitely my longest transition ever! 16 minutes! To be fair Ironman transitions are generally fairly long due to the gear bag stuff, versus placing all your stuff at the bike.
Right outside of transition there is a pretty good uphill. I was going to walk until my body felt comfortable running.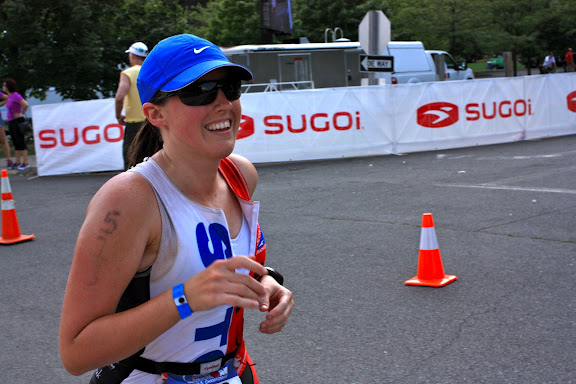 The run course was BRUTAL. There was a double out and back portion that was about 4ish miles each way and it was quite hilly. I walked mostly until the first aid station where I started my diet of coke and water. It rejuvenated me very quickly and I was able to start running. I walked the big hills and was able to run down them and run the flats for the most part. I kept up on 2 salt tabs per hour on this and kept up the coke. I also started taking in the chicken broth when it was available at some aid stations.  There is nothing more delicious during an ironman than chicken broth.
My nutrition felt pretty much in check. I was impressed. At mile 14ish there was our run special needs and I took out my BBQ fritos secret weapon. They're delicious and really hit the spot during a run. A guy I was running with was completely grossed out by the smell but I dropped him like a bad habit!
I somehow set my Garmin 910XT into "locked mode" during the end of the bike so it was stuck in cycling mode. I couldn't tell what my splits were or how far I was into anything. They have mile markers for every mile of the run so I was occupying myself by doing super complex mathematics on the course.
We had to go up and down a few flights of stairs to cross the George Washington Bridge. People on the internet were of course crying about that, but it was really nothing at all in my opinion. It went by very fast. We spent a bit of time in Fort Washington Park and made our way towards the finish through Riverside Park. It was certainly very far from a PR marathon but I finished in 5:59:33. I didn't even know how close I was to 6 hours because the Garmin was acting up. Hah!
Here are some run photos:
…. and the big moment that it was all worth the effort for:
I finished in 13:52:56. I really didn't have too much of a time goal planned and once I got to New York and felt that humidity I threw out what I did have! I was very nervous throughout the race hoping that Kelly was having a good day. We were able to see each other during the 2 loops of the run which was pretty cool and helped calm me down.
Now to wait for Kelly to bring it home!
and here she comes!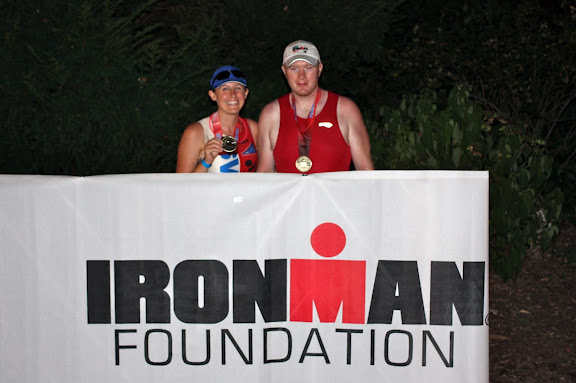 I was so proud of her. I knew she could do it.
Here are the videos!  I can actually hear Mike Reilly call me an Ironman. woohoo!
Me:

http://www.youtube.com/watch?v=ePXJKsnO8o4
Kelly:

http://www.youtube.com/watch?v=b-Or2P1gLGc
After finishing up we all headed back to the hotel. Kelly and I ordered pizza/hoagies delivered to our hotel at 2am. It was glorious.
Stay tuned for Part 3 – the vacation and train trip back home!